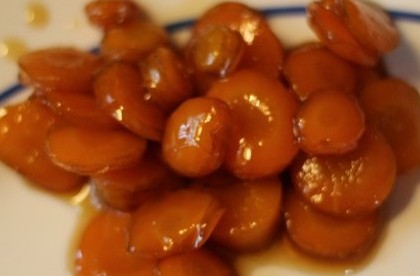 I'm not personally a big fan of glazed carrots. I like mine raw with ranch, in a salad, or just eaten as a giant carrot stick. But my kids and husband prefer them glazed. Making glazed carrots is super easy, and since I'm on a roll on the blog with easy vegetables I'll share another favorite recipe.
Glazed carrots
Carrots – sliced – as many as you want to eat, I do about 1/2 lb for my family of 5
1/2 Cup Water
3Tbsp Brown Sugar
Place sliced carrots in pan, add water and brown sugar and stir. Bring to a boil. Turn down and simmer – stirring frequently -about 30 minutes or until most of the water has cooked off and only a glaze is left.
For more easy vegetable recipes check out my:
And my Crockpot Vegetable Soup