My first CSA box was full of some great stuff. Take a look at all the tasty treats here!
What did I do with all of this? Well, for starters I had fun! I love trying new recipes and experimenting in the kitchen. Here's what I came up with.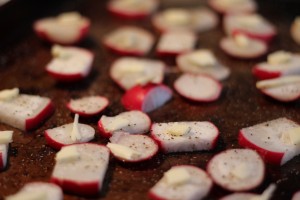 Roasted Radishes
Thinly slice your radishes and spread them on a cookie sheet. Top with a bit of butter, salt, and pepper, and bake in the oven at 300 for about 30 minutes. Taking them out and stirring every 10 minutes.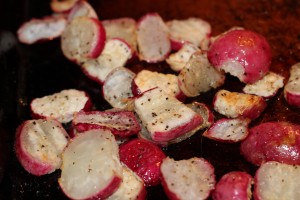 Don't these look delicious? I'm not a big fan of radishes, but these had a great flavor and after being baked were still packed with flavor but were not spicy like raw radishes are.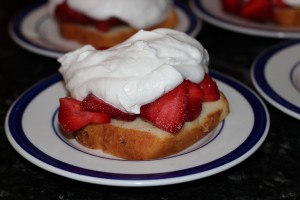 Strawberry Shortcakes
Because who can resist a strawberry dessert with strawberries so sweet they don't need sugar!
I purchased the cake from the store.
The strawberries are easy, cut the tops off, slice, and put them on top of the cake.
I put my strawberry tops in a tupperware in the freezer for using in smoothies later.
For the whipped cream, it's so easy! 1 cup of whipping cream, 1 Tablespoon sugar, beat with an electric mixer until it's as thick as you want it. I like mine pretty thick. Place on top and enjoy!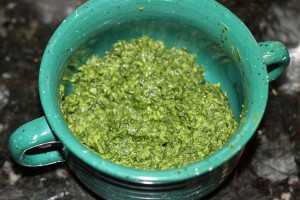 Pesto
I had what I think were carrot tops, so I made some pesto to top my steamed carrots and broccoli with.
I liked the pesto on my carrots but not on my broccoli. I also tried it on corn chips and that was not good at all. So stick with using this on carrots.
4 Cups carrot tops (cut off the stems and use mostly just the leafy parts)
1 Clove garlic
1/4 tsp salt
1 tsp oil
2 tsp lemon juice
Place all the ingredients in a blender and blend, scraping down sides as needed, until the pesto is finely chopped and well combined. Serve with roasted or steamed carrots.