We're trying out a CSA for the first time this year. I'm so excited! To celebrate, I'm going to be doing a Food Friday series on the blog every Friday.
I picked up my first box on Wednesday, so no recipes today since I haven't had a ton of time to work with my box yet, but you'll start seeing recipes and tips next week. So come back.
This week, I'll just show you what's in my box and my initial reactions to everything.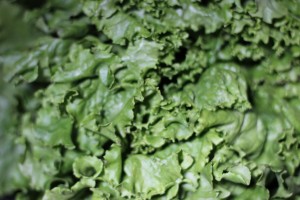 Lettuce, a whole giant head of it. Actually, it's a bunch, not a head, because it's not round. Anyways…we love salads at my house so we'll have no trouble eating this up!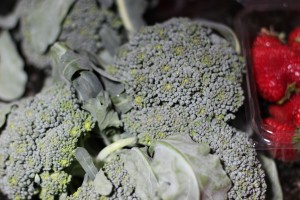 Broccoli, we also love broccoli – at least I love broccoli so I think everyone else should too. I did steam some for dinner Wednesday night and it's delicious! There's six little heads here. Come back next week to see what I do with all of it.
Strawberries, and they're delicious! Also, they didn't last past Thursday, we just gobbled them up. Someone did tell me that the tops are great in smoothies. So I've frozen them for later smoothie making. We'll see how it turns out.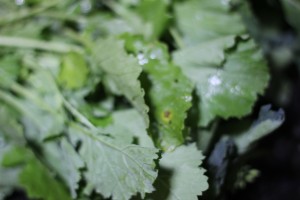 Broccolini, at least, I think that's what it is. There seems to be a lot of leaf and not a lot of broccoli flower. I've seen so many recipes for this green but my local Kroger doesn't sell it, now I get to try it!
There's one other mysterious green leafy item that I think is carrot tops, I've also heard that these are very tasty and quite nutritious but I've never tried them. This could be exciting. If all else fails, I'll just use my favorite greens recipe and it'll be delicious.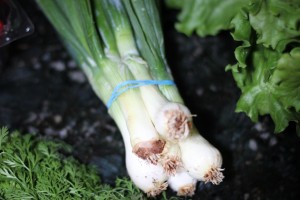 These are some rather large green onions (also see the carrot tops in the bottom-left-hand corner). One per recipe should work great.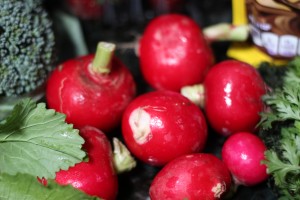 And last item, radishes. I haven't had a radish since I was a kid. I sliced up the tiny one that you can see in the picture and ate it just to see how spicy they are. Not too bad, but I don't see any of my kids or my husband eating them just sliced on a salad so I'm going to have to find a better use for them.
I'm so excited to have some new vegetables I've never tried before to cook with, and I'm excited to have some of my favorites like strawberries and broccoli, and not so excited about the radishes.
Come back next Friday to see what I make with all of this!