How do Dinosaurs Eat Cookies by Jane Yolen & Mark Teague.
Our book topic for this month's book craft was "How Do Dinosaurs…" I'd never read this series before but it sounded like fun.
I went a little overboard and check out maybe a dozen from the library – and there's still more! The kids didn't mind because these books are super cute, and fun to read. They all have a fun rhyme and my 3yr old loves dinosaurs so he was very excited to have all sorts of dinosaur books to read.
With the cold snap last week, baking cookies together was a great project. We made chocolate cookies with multi-colored dinosaur eggs (mini m&m's). So much fun, and so tasty!
Along we way we got to talk about how dinosaurs help in the kitchen – they don't throw the m&m's btw. And how dinosaurs are very polite when they eat their cookies.
How do Dinosaurs Eat Cookies is a super cute board book with "scratch & sniff" cookies throughout. Lots of fun to read together over and over.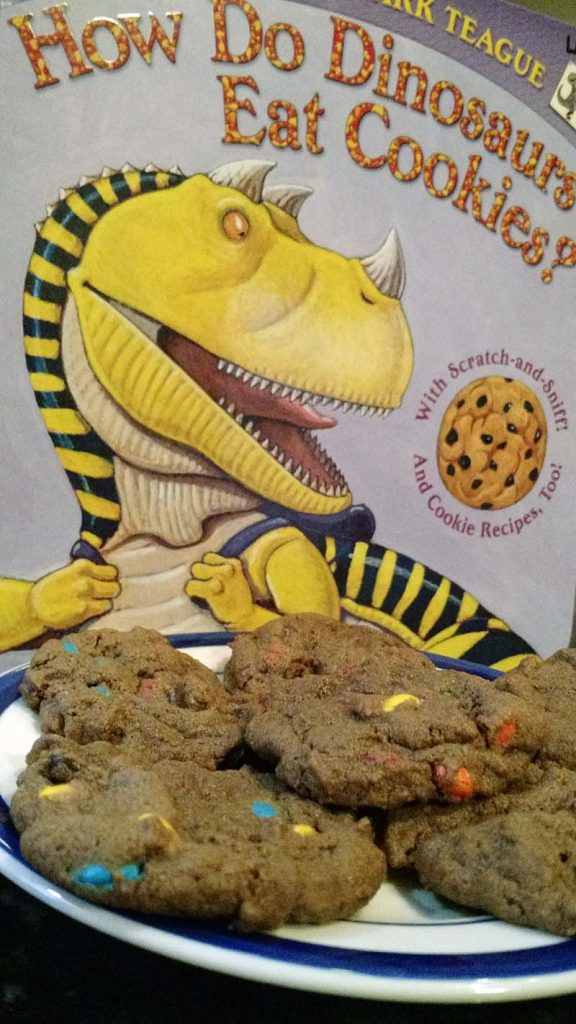 Dinosaur Egg Cookies
1 cup butter, softened
3/4 cup granulated sugar
3/4 cup packed brown sugar
1 tsp vanilla extract
2 eggs
2 1/4 cups flour
1/3 cup cocoa
1 tsp baking soda
1/2 tsp salt
1 package mini m&ms – or other chocolate chips of your choice
Heat oven to 350
With an electric mixer, blend together butter, sugars, and vanilla until creamy. Add eggs one at a time, mixing well.
In a separate bowl, mix together flour, cocoa, baking soda, and salt. Gradually add flour mixture to sugar mixture, until well blended.
Stir in mini m&ms
Drop by rounded teaspoons onto ungreased cookie sheet.
Bake 8 to 10 minutes or until set. Cool about 5 minutes then remove from cookie sheet to wire rack.
Makes 5 to 6 dozen cookies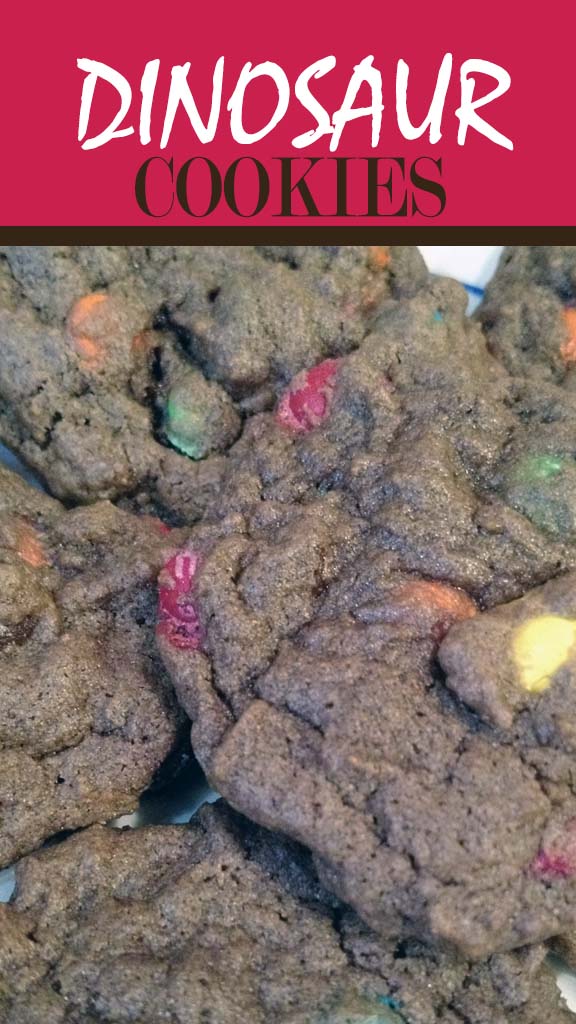 This post does contain affiliate links.
Monthly Crafting Book Club