*I received these products free for purposes of my review*
Pure Crumb sent me 4 different kids of bark. Brownie Bark, Crumb Cake Bark, and 2 kids of Cookie Bark.
These products are all gluten free and dairy free, so will work for a lot of different dietary restrictions!
While I liked all 4 flavors, I do have my favorite! But, before I get to that, more about the products in general.
You can purchase 12 individual packages, you know, for if you're counting calories. But, seriously, just buy the big bags! With the simple ingredients these products have, it won't hurt to splurge a little on the calories!
For example, check out the ingredient list on the Brownie Bark:
Ingredients:  Pure Semi Sweet Chocolate Chips*, Organic Evaporated Cane Juice, Gluten Free Flour Blend*, Eggs, Almond Flour, Coconut Oil, Cocoa Powder, Cinnamon.

*Pure Semi Sweet Chocolate:   sugar, chocolate liquor, cocoa butter, soya lecithin, vanillin.

*Gluten Free Flour Blend:  garbanzo bean flour, potato starch, tapioca flour, whole grain sweet white sorghum flour, fava bean flour
I mean, I actually know what these things are! How awesome is that?
While there are some "bark" pieces, these honestly are a bit more like "crumbs" so Pure Crumb is a great name for them. I enjoyed these straight from the bag, and as a crumb topping on my yogurt – which is seriously amazing and why you should just get the big bags!
Brownie Bark – My favorite! It's so chocolaty and you may actually want to get the snack bags for this one, because it's really hard to not just eat the entire bag.
Coconut Chocolate Chip Cookie Bark – My favorite one for a yogurt topping. I just love the coconut and chocolate cookie crumbles on yogurt. Delicious, a little crunchy, and not too sweet.
Chocolate Chip Cookie Bark – Also tasty, but it's hard to compete with coconut, so… you know, I'll eat it if the Coconut Chocolate Chip Cookie Bark is gone.
Crumb Cake – Delicious flavor, think cinnamon sugar cookie, but it's competing against 3 barks with chocolate, so it didn't stand a chance!
Check out PureCrumb.com for more information and/or to order some for yourself!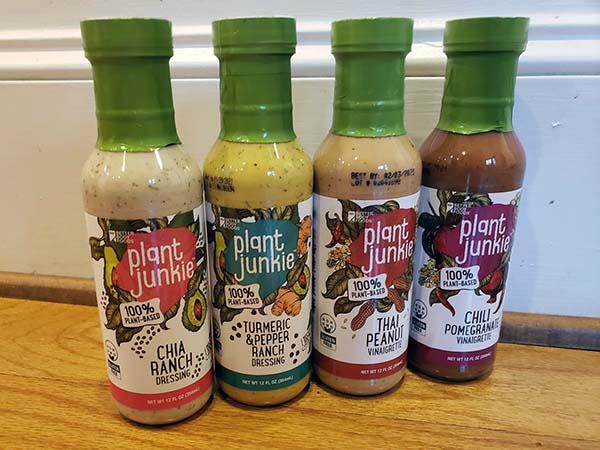 Check out this line of plant based spreads, dressings, and vinaigrettes. I was intrigued by the variety of flavors available, and just a bit curious. How do you you make a ranch dressing without dairy?
I tried the chai ranch dressing first. And, I'll be honest. It does not taste like ranch. I'm not saying that it tastes bad. But if you're expecting traditional ranch dressing, this is not it. I'm actually pretty sure that it's impossible to make a basic ranch dressing without some sort of dairy product.
Anyways, I would describe the flavor as kind of hummusy (is that a word?), with some coconut and oats making it more mild, and of course chai seeds. I was originally going to sub it for mayonnaise on a sandwich but changed my mind. It's got a LOT of flavor – way more than mayonnaise. So, I tried it as a veggie dip instead and that was perfect!
The Turmeric and Pepper Ranch dressing was terrific on a salad, just start light because these dressings have a lot of flavor! Which is amazing, because I'm the kind of person who prefers a little dressing with my salad and not the other way around. So, with these, I get lots of flavor without having to drown my lettuce.
And with no eggs, no soy, and no gluten, these are great products for a variety of diets.
I used the Chili Pomegranate Vinaigrette as a steak marinade. It was very flavorful, and quite delicious! I realize these are plant based products, but I do love a good marinaded steak! And since they're gluten free, and keto friendly that just makes it a lot easier for me to use as a marinade when I have guests!
You can purchase their products on amazon or at plantjunkie.com.