Scrambling for a last minute gift for that impossible to buy for someone? Here's a super simple and delicious treat anyone can make.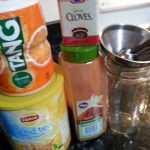 Russian Tea
1 Cup Tang
1 Cup Lipton Instant Tea
1/4 tsp ground cloves
1/4 tsp ground cinnamon
Mason Jar
Pretty Ribbons
If you have a funnel, use it. It makes pouring into your mason jar so much easier! Pour all 4 of your ingredients in your jar. Put the lid on tight. Shake your jar for a minute or two, until all the ingredients are blended.
Add Ribbon and any other mason jar decorations that you like. Don't forget to include the serving instructions.
Serving instructions: Combine two heaping spoonfuls of tea mix with hot water in your favorite mug. Stir and enjoy!
Talk about fast and easy! These would also make great teacher gifts, neighbor gifts, or a fun addition to a snack basket or cookie exchange. Be creative. This is so easy to make, and it's so delicious, you'll want to make sure you make one for yourself.