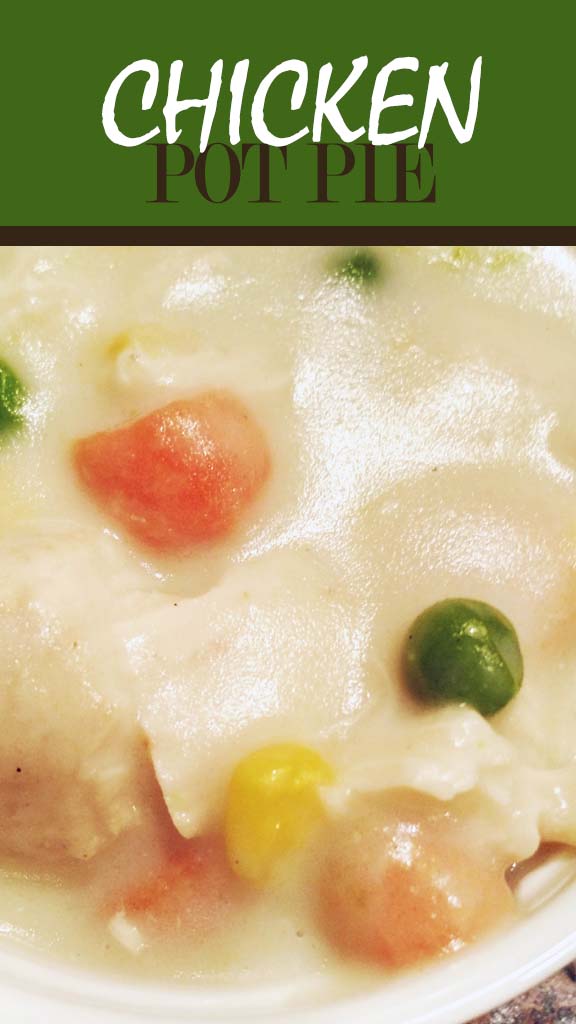 These little chicken pot pies are perfect for cold winter days. My kids thought that having their own bowl was awesome! Plus the biscuits fit perfectly on top this way. Feel free to make this in one big pan if you don't want to do personal ones.
Chicken Pot Pie
8 ovenproof bowls or ramekins, about 1 cup each
4 Cups chicken broth
1/4 tsp ground pepper
1/4 tsp ground thyme
2 bay leaves
4 green onions, sliced in chunks
4 skinless, boneless chicken breasts
3 Tablespoons butter
1 Cup diced carrots
1 Cup frozen peas, thawed
1 Cup frozen corn, thawed
5 Tablespoons flour
1 Cup milk
8 Biscuits
Combine chicken broth, pepper, thyme, bay leaves, and onion in a large pan over high heat. Bring to a boil then reduce heat and simmer for 30 minutes.
Add the chicken and continue simmering for another 20 to 30 minutes or until chicken is cooked through. Add enough water to the pot to fully cover the chicken if too much liquid has cooked off.
Remove the chicken and place on a cutting board to cool. Strain the broth. You'll need 2 1/2 cups.
Cut the chicken into bit size pieces.
In a skillet on the stove, melt the butter over medium heat. Add the carrots and cook, stirring occasionally, for 5 minutes.
Add the peas and corn to the skillet and cook, stirring occasionally, for another 5 minutes.
Stir in the 5 Tablespoons flour just until combined or all the vegetables are coated.
Add 2 1/2 cups chicken broth and the milk. Cook, stirring constantly, until thickened. About 5 minutes.
Remove the skillet from the heat. Stir in the chicken.
Preheat oven to 375
Dish out pot pie filling into the ramekins or oven safe bowls and set aside.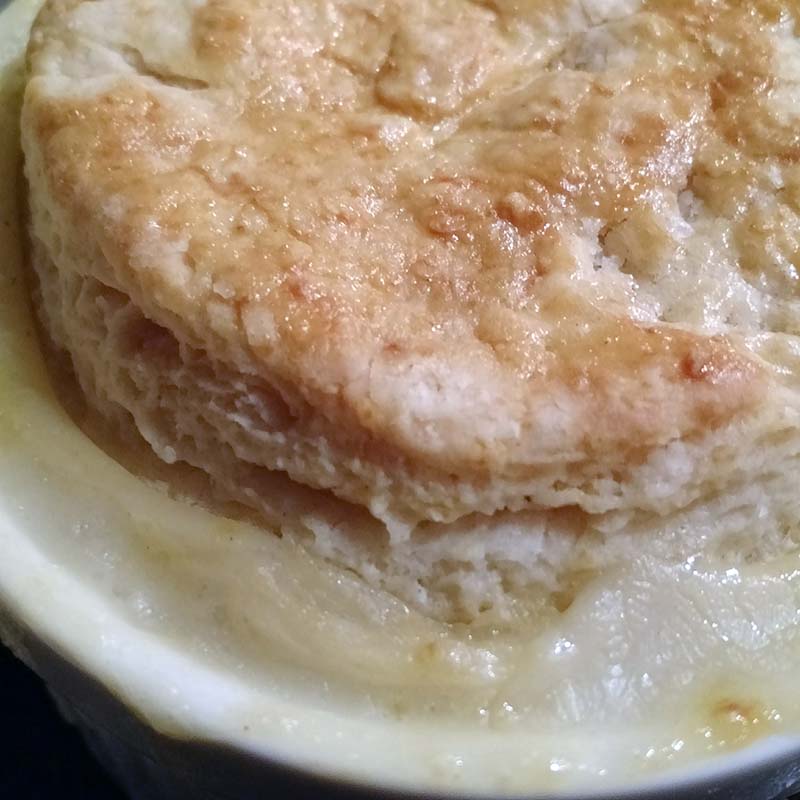 Make biscuits and roll them out to 1/4 inch thick. If you're using refrigerated biscuits, use half a biscuit.
Place 1 biscuit on top of each ramekin filled with pot pie filling.
Bake in a 375 degree oven for 30 minutes or until tops of biscuits are golden brown.