There were so tasty things in my box this week. And some vegetables I'm not that familiar with. Be prepared for fun recipes tomorrow!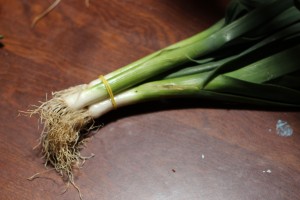 More green onions – I have got to find a use for this. This is 3 weeks in a row, and they're all sitting in my fridge…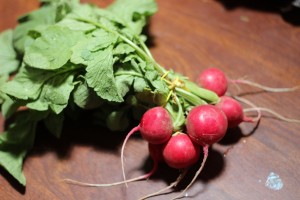 Radishes – the recipe I tried last time was pretty good. But no one in my family really likes radishes, so I'm going to have to try something different. Also, I have the tops this time. I'm thinking I'll try a pesto and see whether I like the carrot top pesto or the radish top pest best.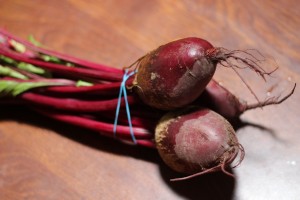 Beets – I've never ever cooked beets. I'll be looking at lots of beet recipes this week! They have the tops too. I'm pretty sure I can use these like any green similar to kale. I'll be finding out what the taste difference is!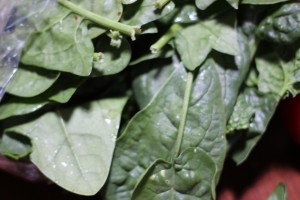 Spinach – we love spinach salad! I doubt I'll have enough to do more than just salads. Especially since this is our preferred way to eat spinach.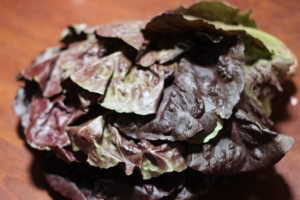 While we're discussing salads, here's a head of red lettuce. I see some delicious salads in my future!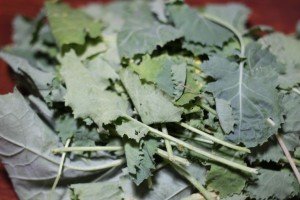 More Kale – I love cooked greens but the kids and my husband are not impressed. I'm going to try kale chips this week, maybe those will be better received…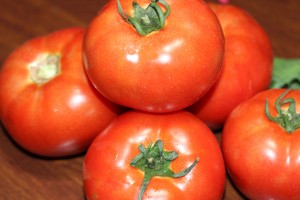 Tomatoes – I love tomatoes. And these are huge and delicious looking. Can't wait to start eating these.
Come back tomorrow to see what I did with all these familiar and unfamiliar vegetables.