I had 5 giant tomatoes in my CSA box. 5. I love tomatoes. But they're giant. No one else likes tomatoes, so when I cut one up I have to eat it all somehow. They're delicious tomatoes and I've enjoyed them.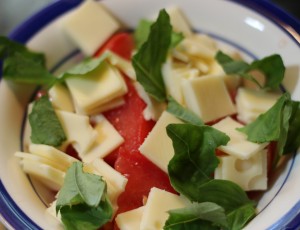 Tomato Basil Salad
1 medium size tomato or 1/2 a large tomato
1/4 cup cubed cheese – I used baby swiss
4 sweet basil leaves – broken in pieces
Slice tomato in squares, toss tomato, cheese, and basil together. Add a little salt, oil, or vinegar if desired. Enjoy.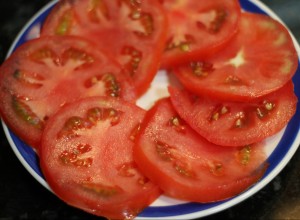 And I just had to show off a sliced tomato. Isn't it delicious looking!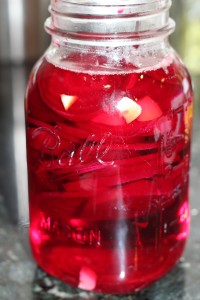 Beets was a real stumper. I haven't made beets since, well, ever. I'm not really fond of the taste ether so I haven't eaten them since I can't remember when. But, they came in my CSA box and part of the reason for getting a CSA is to try new things. I only had enough beets for 1 jar so I didn't want to bother with canning just one jar. I decided to go with the refrigerator version.
Refrigerator Pickled Beets
3 medium sized beets
1 cup sugar
1 cup vinegar
1 cup water
2 cloves garlic – peeled and sliced
Beet juice as needed
Wash beets well and remove tops and stems. Place in a pan of water and boil until fork tender (about 25 minutes) Remove from water, peel, and slice into rounds. Place in Mason Jar.
While beets are cooking, heat sugar vinegar, water, and garlic on the stove. Simmer 5 minutes then set aside to cool.
Pour sauce over beets in mason jar. Top off with beet juice (leftover in pan from boiling the beets) as needed to fill the jar.
Put lid on the jar and refrigerate. The beets will be ready to eat in 1 week. They will keep in the fridge for 1 month or so.