I needed to use up a bunch of "leftover" vegetables. So I turned them into a vegetable medley. This combination of veggies was so colorful, and I love eating colorful foods.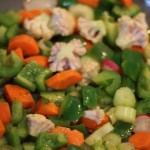 1 Carrot – sliced
1 Green Bell Pepper – chopped in 1/2 in pieces
2 stalks Celery – sliced
2 Green Onions – sliced
1 small bunch Cauliflower – cut in small pieces
2 small Radishes – sliced
1 handful fresh Spinach
2 Tbsp butter
Salt & Pepper to taste
Grated Parmesan Cheese
Warm butter in skillet over medium heat
Add all vegetables except for the spinach
Pan fry until veggies are to desired doneness. I like mine just a tad bit crispy still so about 7 minutes.
Add spinach and cook until spinach is wilted, about 2 minutes.
Season with salt & pepper to taste
Serve with Grated Parmesan Cheese on top.