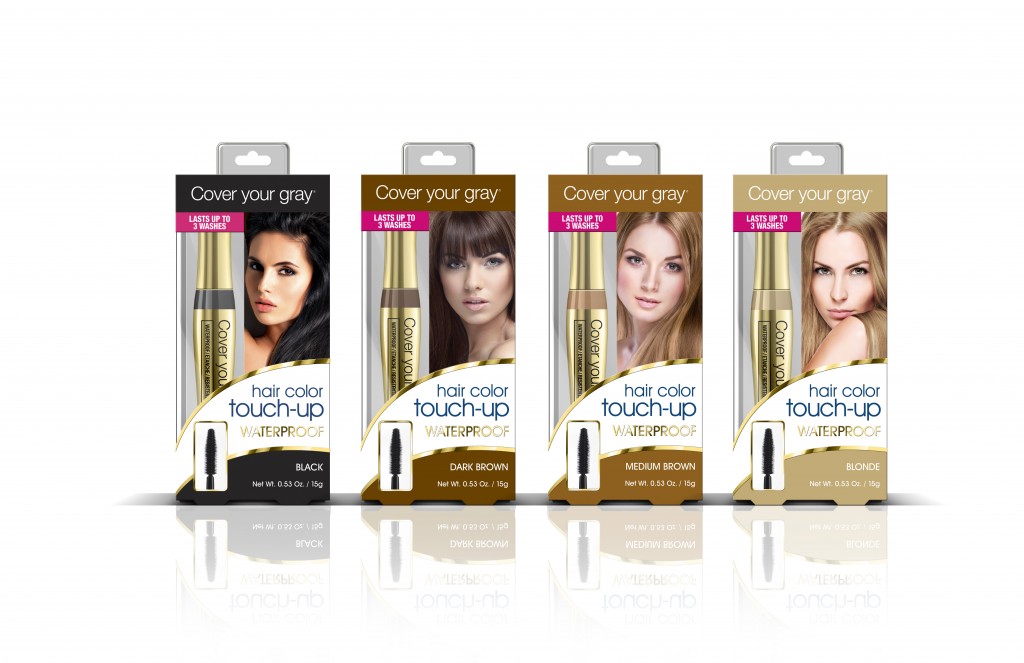 I was sent 3 Cover your gray products to try. All 3 were in medium brown, which was a great match for my hair color. I have gray that irritates me that shows only at the roots and this sounded like a great product for me!
Cover your gray sent me three of their new waterproof products. These are great for when you don't have the time to get your hair colored or just want to save money by extending the time in between services. The new waterproof formulas are sweat-proof, rain-proof and last through three shampoos.
The first product I tried was this Cover Your Gray 
hair color touch-up
. I've never used a touch-up product before so I wasn't sure if I should do it with my hair wet or dry, so I tried it with my hair wet. This was not a good idea. Even after my hair dried, every time I touched my hair I got brown on my fingers. Yuck! I tried it again later (after shampooing once) when my hair was dry and didn't have this problem.
So, make sure you apply your touch-up after your hair is dry.
This color blended perfectly with my hair, you can't even tell I added a touch-up color! Well, except for the missing gray. WooHoo!
The next product they sent me was the Cover Your Gray 
root touch-up
. This is also easy to apply. And I applied it with my hair dry – so I didn't have any color-bleed problems. This is for heaver root application, and less all-over touch-up.
When you use the root touch-up and the hair color touch-up together you get a really good result because you can blend into your hair and get your roots well covered.
The final product they sent was a Cover Your Gray
Waterproof Pencil
. It's perfect for getting anything you missed with the root touch-up and the hair color touch-up. You do have to push pretty hard to apply it so it's not good for all over, but it's great for those harder to reach places, like the center of your part.
It's been raining here the past few days, and with 3 kids I've gotten pretty wet while running errands. Whether or not this product is waterproof has been well tested! This product does not bleed in the rain. And that's a very good thing!
These three products together are perfect for concealing that little bit of gray that especially stands out around my roots. It blends well with my hair color, and does a great job of hiding the gray for a couple of shampoos.
I received this product free for purposes of my review. All opinions are my own.