I received this product free for purposes of my review. All opinions are my own.
Chipex Touch-Up Car Paint comes with a 100% color match guarantee and is fast & simple to use.
Step 1: Look in your car and find the paint code (it was in the sticker in my driver side door). If you don't have your code you can look up your car by make, model, and year. But, in my case, there were a few too many similar colors for me to just guess based on the make and model of my car. So, I found my code and started there.
Step 2: Enter the color code and look at your options. You'll see a list of car make, model, and year. Just pick yours from the list.
Step 3: Order and wait for it to arrive. My package arrived way faster than I expected. It took about a week and a half to arrive. Since I picked the slowest shipping option, I was surprised that it arrived this fast.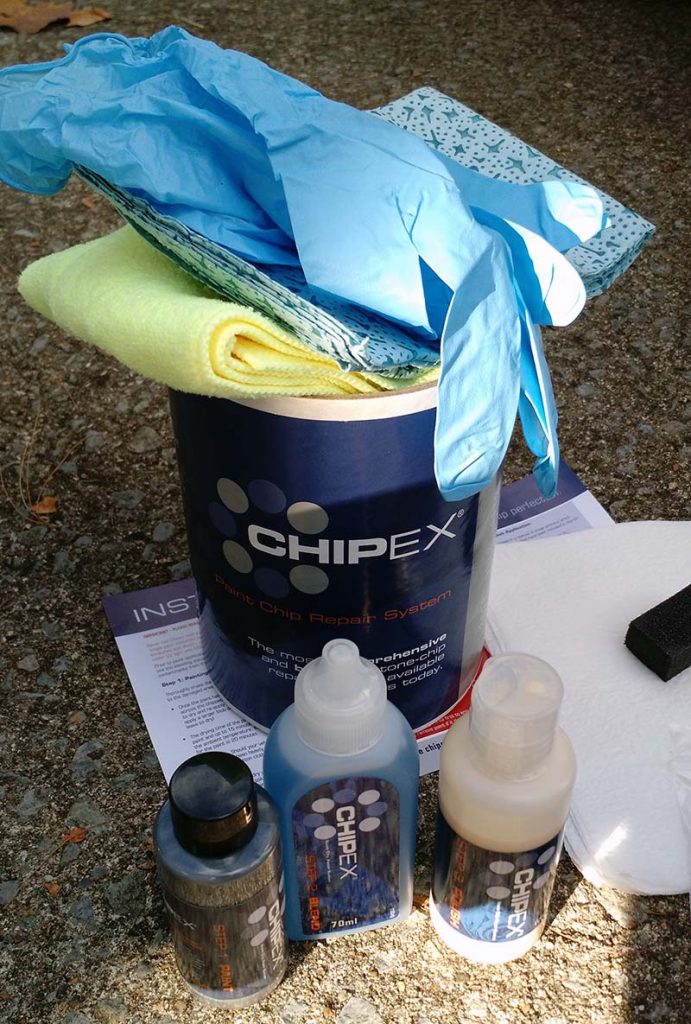 Here's my kit. There's paint, cleaner, wax, gloves, paint brushes, cloth, towel, and a little cleaning block. It doesn't look like much, but since it's just for fixing scratches, this paint will last forever.
Step 4: Make sure your car is clean. I just cleaned the area I was planning to paint.
Step 5: Using the brush, apply the paint to your scratches or dings. I decided to test it on a pretty dinged up area on the side of my car. Just look at all those nicks!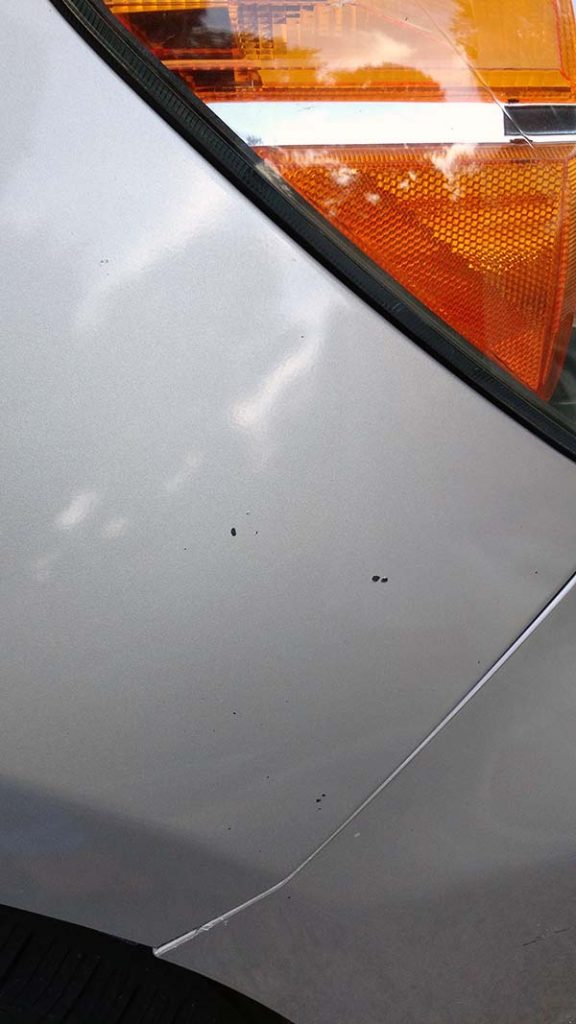 Step 6: Let paint dry for 1 to 3 minutes. Yup, minutes. It's super fast!
Step 7: Wrap the blue towel around the black cleaning block and spray on a little bit of the cleaning solution. Wipe it over the painted dings to smooth out any excess paint.
Step 8: Squirt some wax on the yellow microfiber cloth and do a quick rub on/ rub off wax of the area.
Step 9: Don't power wash for at least 2 weeks. So, if you need to wash your car, go to the car wash before doing your touch-up paint with Chipex. Also, if you didn't quite get it and need to add more paint, you'll want to wait 2 weeks as well just to make sure the paint sets properly.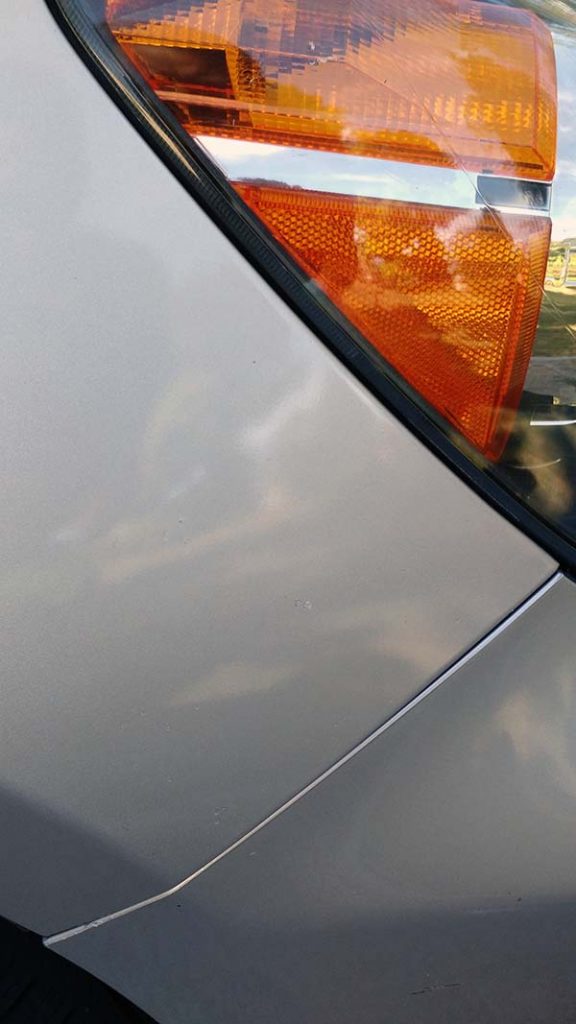 Just look at how much better that looks! The paint color was a perfect match as well. I'm very happy with how well Chipex works and as soon as I've waited my 2 weeks I'm going to wash my car and then touch-up any remaining dings that I missed.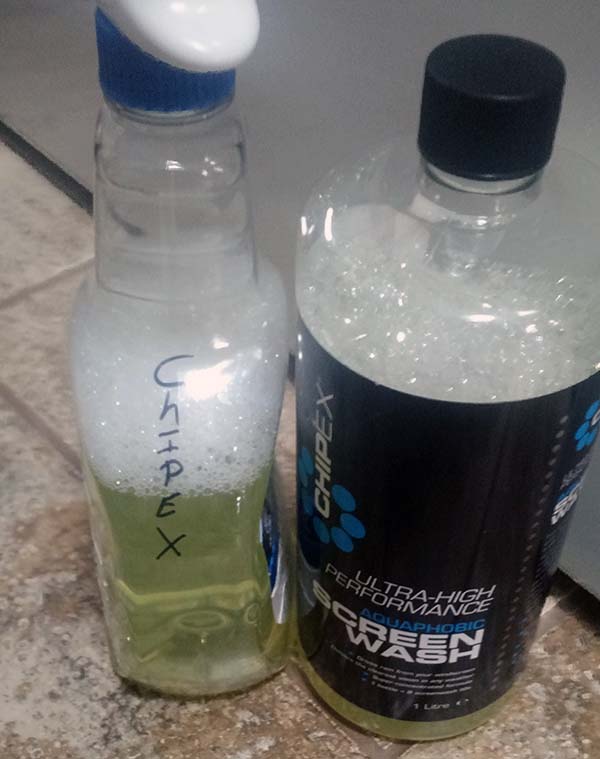 Along with Chipex Touch Up Paint I also got to try their Screen Wash. You're supposed to dilute this in the screen wash container in your car. This one bottle is 5 refills. And I'll help rain slide off your windshield.
My husband really wanted to use this on his car but his wiper fluid doesn't spray so I made him a spray bottle and we treated the windshield with this a couple of times. I added the screen wash to my car container and sprayed and cleaned off with my windshield a couple of times. Of course, now that I've treated my windows it hasn't rained so I don't actually know how effective it is. It did a great job of cleaning off my car windshield though!
Want to try Chipex for yourself? Enter their giveaway today!
The giveaway will end on the 3rd of November it is open to US & Canada and Europe only. The winner will be able to order up to $80.00 worth of Chipex products on the website. The giveaway winner will be contacted by the sponsor with the details for redeeming their prize.
Can't get enough of Chipex? Follow them on Facebook, Twitter, Google+, and Pinterest.