I received these products free for purposes of my review. All opinions are my own.
I LOVE reviewing products for moms, because that means I discover some cool stuff for myself while I'm at it. Here's 3 items for that mom or female friend on your gift list that is just impossible to shop for! They're all unique, fun, and probably something that she doesn't have yet!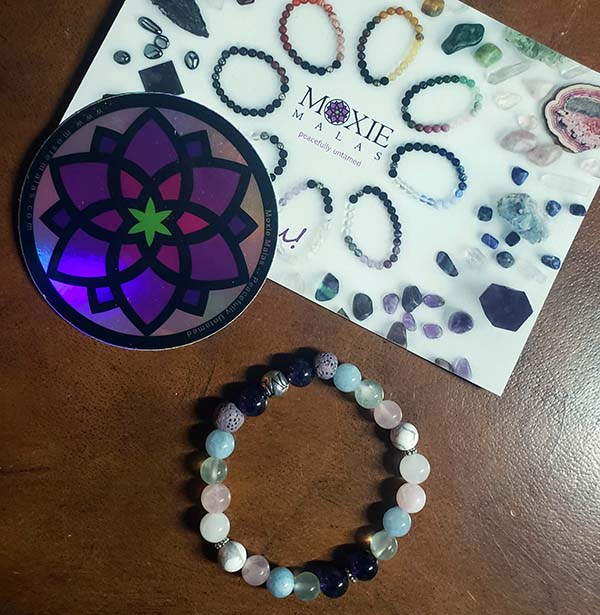 Moxie Malas is Crystal Healing and Aromatherapy jewelry. Each piece is hand crafted in the United States using semi-precious gemstones and crystals.
Moxie Malas sent me this beautiful "I Just Can't Even" bracelet to review.It's a 7 inch bracelet on a stretchy band. It seems appropriate considering how difficult it is to keep my cool with the mixture of work stress, educating my children, and unusual holidays this year.
This bracelet has amethyst, aquamarine, moonstone, rose quartz, prehnite, and howlite for a mixture of courage and calming semi-precious gemstones and crystals.
The porous purple stones on this bracelet are lava stones. And, aside from being the perfect addition to this bracelet, they can be used for essential oils if I want to add a little scent to my bracelet.
A lot of Moxie Malas jewelry items have these porous lava stones for adding your favorite aromatherapy to your crystals bracelet.
They even have a monthly bracelet club if you want something new every month but are just overwhelmed by all the great options like I am, and can't make up your mind!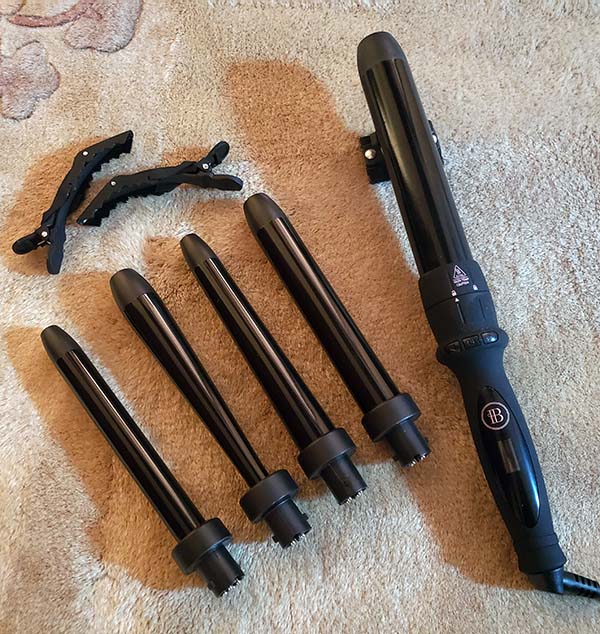 I love playing with my hair, but I hate owning 50 different curling wands (well, I don't think I actually own 50 – but I definitely own at least 10). All those power cords, sizes, etc.
So, I was excited to receive this 5 in 1 Curling Wand to Review. Basically, I have 5 curling wands, and only 1 power cord. That's just awesome! This set comes with a rest for setting my hot curling wand on and two hair clips for helping me keep my hair where I want it while I'm curling.
This wand heats up super fast. Yay! That's really important to me because with 4 kids, when I sit down to work on my hair, I don't have 10 minutes to wait on my curling wand to heat up. Full disclosure here – with the exception of a couple wands that I've purchased for my daughters, I'm still using my curling irons from the 90s and those things take almost a decade to heat up. I think I was way overdue for an upgrade.
The different sizes are super easy to swap out, and there's a lock switch so you can't accidentally twist your wand off the base while you're curling – because that would be a problem. Just make sure that your wand is completely cool before swapping ends. – which is the only down side of a 5 in 1. You can't use multiple sizes at the same time.
My favorite is the second from the left (in the picture) that has the smaller base and larger end. I start at the scalp and wind my hair around so the end of my hair is at the end of the wand. I have long hair and it's always frustrating when my ends curl but the top doesn't, so being able to curl tighter where it's more difficult and looser where it holds better makes my curls come out so much more even.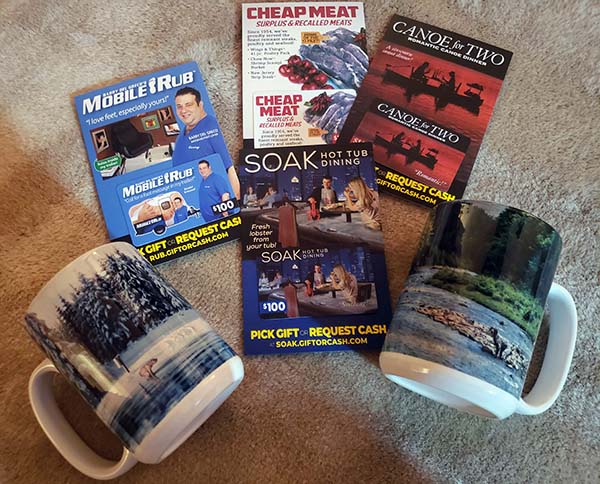 These gifts are amazing for that white elephant gift exchange, or for the impossible to purchase for person on your gift list.
I'm actually re-gifting these because I have a couple people on my gift list that just need a gag gift.
These call of nature mugs are funnier the longer you look at them, and the gift cards are perfect for that person who is always telling you how much they love gift cards – or the person who insists on giving everyone gift cards every year. No matter which side of the gift card fence you fall all, these are awesome!
You can actually go to the web address on the gift card (Prank-o owns those domains) and it will give you all the details about how you've been pranked.
Prank-o also has prank gift boxes, prank greeting cards, prank flyers, and more. All perfect for bring out the laughs however you choose to exchange gifts this holiday season.