Thanks to Bzz Agent I received a coupon to try Arla Dofino cheese for free! My family loves cheese and we really enjoyed trying out Arla Dofino. We actually liked it so much, we tried out several different varieties.
One of the cheeses we tried was the Jalapeno Havarti. The Havarti is pretty soft so it's easy to eat as a snack with crackers. I don't like most Jalapeno cheeses this way because usually the pepper chunks are too big. They were the perfect size in the Arla Dofino cheese. I also tried it grated up on chips. I spread the chips on a plate, grate the cheese on top, microwave for 30 seconds, and I have hot chips with cheese that I'll dip in salsa. So delicious! And the Jalapeno cheese gave it an extra pop that worked great with the salsa.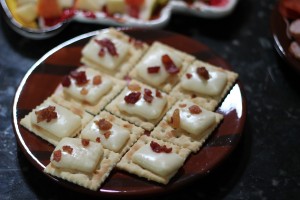 I also made these little cracker bites with the creamy Havarti and bacon bits. I spread the saltines on a tray, put little slices of cheese on top, added some bacon bits, and cooked in the oven till everything was hot and melty. So delicious! They were eaten up very quickly!
For a tasty cheese tray, the round of Edam cheese was perfect. It has a great flavor, and it's a great cheese to have out at a product, it looks like a premium product and it tastes great. Definitely getting another round of this for my holiday party this year.
I've liked every variety of Arla Dofino cheese that I've tried and I I can't wait to serve some to my guests this holiday season.