I received this product free for purposes of my review.
These delicious bnutty Gourmet Peanut Butters arrived just in time for everyone to be stuck at home. So, I made one of our favorite snacks.
Chocolate Covered Peanut Butter Crackers
Ingredients:
Ritz Crackers
Chocolate Chips (or other meltable chocolate)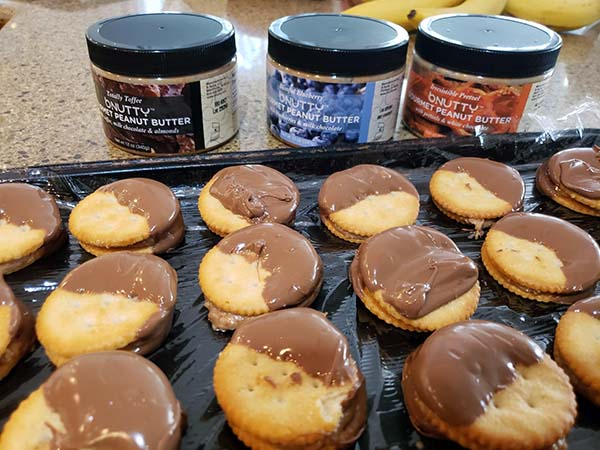 Directions:
Spread peanut butter thinly on 1 cracker and top with 2nd cracker
Prepare about a dozen of these
Melt chocolate at 15 second intervals in the microwave, stirring each time
Once the chocolate is melted and smooth, dip 1/2 of each peanut butter cracker sandwich into the chocolate
Set on a pan lined with wax paper to cool and harden
Share some with your family!
These are so easy to make, so tasty, and are loved by adults and kids! And the bnutty gourmet peanut butters make these especially delicious!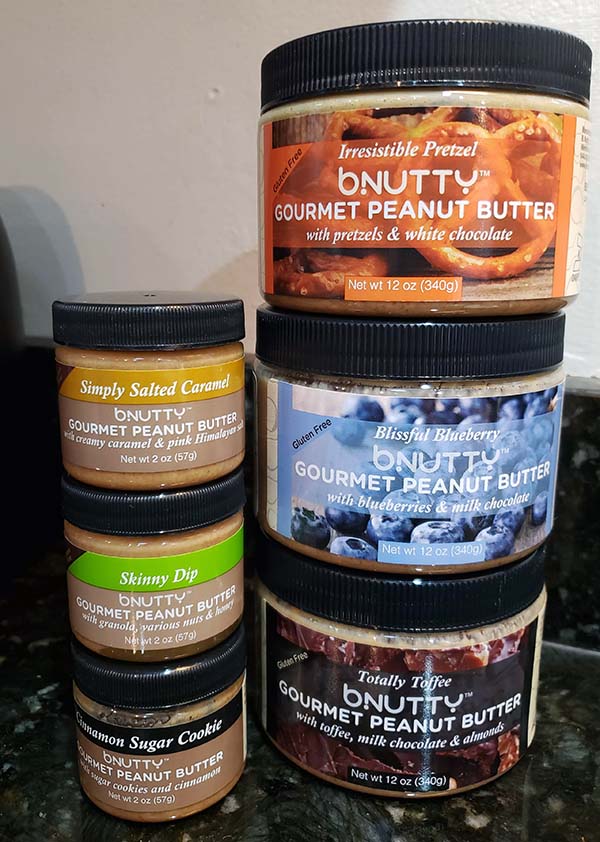 bnutty Review
I'm just loving bnutty Gourmet Peanut Butters! These delicious peanut butters are available for purchase on their Website. I was sent 6 different bnutty peanut butters to test and they're all delicious.
And the Totally Toffee is definitely my favorite! It's crunchy and not too sweet!
Blissful Blueberry is a close second though. I could just sit down and eat this one with a spoon – LOL.
Irresistible Pretzel is crunchy and salty. So delicious! Especially if you're wanting something more salty than sweet.
Cinnamon Sugar Cookie is like a dessert peanut butter. In fact, I could probably just eat it for dessert!
Simply Salted Caramel is like a caramel peanut butter.
And skinny dip is like peanut butter with granola in it. Probably the most filling of the 6 peanut butters.
Basically, they're all delicious and especially since we're stuck at home, it's nice to have a special treat that everyone can enjoy!