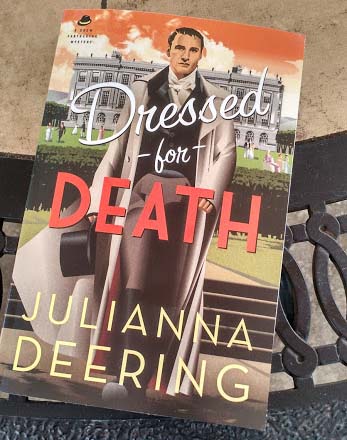 Dressed for Death, by Julianna Deering. This book is 307 pages long and it's the 4th in the Drew Farthering Mystery series.
I have not read the previous 3 but I had no trouble picking this one up and understanding who the characters are. In fact, after reading this one, I liked it so much, I put the other three Drew Farthering Mystery books on my reading list.
There were a lot of Jane Austin book references at the beginning of this book, and while I had to read Jane Austin in High School, I'm not a fan. So I was pretty worried that I wasn't going to like this book. Luckily, this book is nothing like a Jane Austin, so I was just fine.
After the first couple of chapters, and the characters and setting were all introduced, and the book got very interesting. It took me a day to read the first 3 or 4 chapters, and then a day to read the rest of the book.
Once I got going, I couldn't put it down. This was an entertaining mystery book, sometimes predictable and sometimes not. Which in my opinion, is how all good mystery books should be.
Julianan Deering is a Christian author and she did a great job of discussing the character's faith in a realistic way. It wasn't preachy, but very down to earth and real. And it went well with the rest of the story.
I really enjoyed this book. And I also love that I discovered a new author that I like!
I received this book free for purposes of my review. All opinions are my own. This post does contain affiliate links.