Founded in February 2015 by Brooklyn native, Jason Yakubovich, the New York City based startup Pandle Inc. provides the world with a germ- and worry-free experience in public spaces. From public transportation, to fitness centers, to hospitals, the company's innovative product is the simple solution to fighting off germs and avoiding sickness transmitted through contaminated surfaces.
Pandle is a wearable, reusable silicone handle with an integrated nanosilver solution that prevents the growth of germs on the device. By inserting the hand into the device before touching public surfaces, the user avoids coming in contact with germs while also improving grip through the unique rubber blend of the product.
Pandle was originally created for public transportation and is therefore exactly sized to cover standard subway poles. However, it can be used for any surface that may be tainted with germs. With its ultra-light and foldable design Pandle easily fits into every pocket and is ready to use in just a second.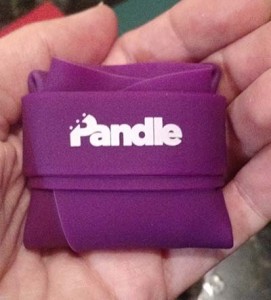 The only public transportation near me is the city bus so I obviously don't use this for public transportation, however, it is pretty handy for when I'm out and about with the kids. Things like opening bathroom doors (my kids LOVE public restrooms) or gripping other surfaces like stair handrails that have had many many people touching them. These are sized for a subway pole so they're the perfect size for gripping things that you encounter on the go. And my kids think they're awesome!
I love the bright colors and they fold up so tiny – I actually "lost" mine in my purse the first time I dropped in in there. Whoops!
Pandle is currently available for $6.99 on the company's website  and at selected shops throughout New York City. It comes in two different sizes and five different colors (black, green, blue, red, purple). For more information please visit their website at www.pandlehandle.com You can also follow them on Facebook and Twitter. Or to see the Pandle in action check out their YouTube videos.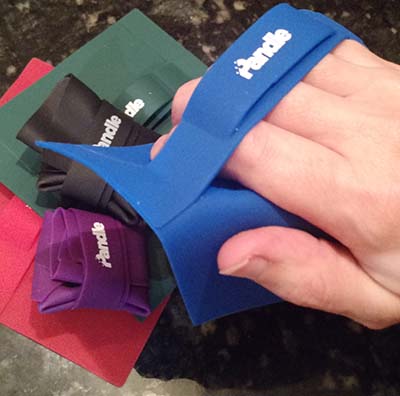 Pandle sent me one of every color of Pandle which is pretty awesome! This giveaway is for one Pandle. Winner chooses the color. I received this product free for purposes of my review. All opinions are my own.