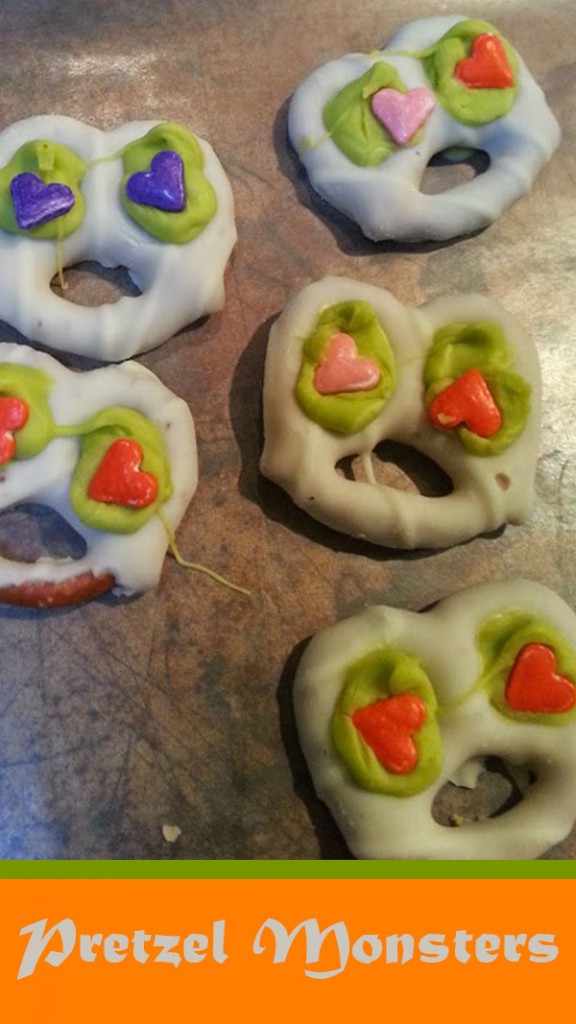 These are so easy to make. And so fun to make! My girls helped me with these and they opted not to put any of the halloween sprinkles on, but insisted on using hearts instead!
Any way you do it, have fun! They taste great too, so make a bunch, because if you don't you'll wish you had.
Pretzel Monsters
Bag (or two) of Chocolate covered pretzels – I just buy the cheapest chocolate covered pretzels I can find at the grocery store
Candy making chocolate in various colors – green and orange are great monster colors!
Assorted sprinkles
Spread parchment paper out on 2 cookie sheets.
Spread pretzels out on sheets in a single layer.
Melt the candy chocolate in a ziploc bag in the microwave. Microwave 15 to 30 seconds, mix and repeat until chocolate is smooth.
Cut a small hole in the corner of the bag and pipe into the top two sections of the pretzel. Immediately, add a large sprinkles for the eyes. (this is a great part for the kids, you pipe, and they stick on the sprinkles)
Let cool, remove from the tray, and enjoy.
I like to just set out a bowl of these on the counter when guests come over. They're fun and so tasty!