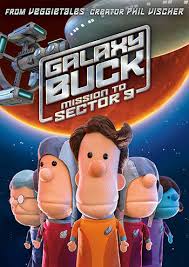 I definitely earned "mommy points" for this product test. We got to watch a pre-release copy of Galaxy Buck: Mission to Sector 9. My kids loved it.
I actually surprised them. I told them we had a new movie to watch but didn't tell them what it was. When they figured out that it was Buck Denver they were so excited! We ended up watching it twice just because they liked it so much.
Take a look at the trailer here.
If you're not familiar with Buck Denver, this is from VeggieTales creator PHIL VISCHER! Kids will enjoy Buck Denver's latest adventure with his friends from What's In the Bible? and parents will appreciate the humorous nods to Star Wars and Star Trek.  More importantly, Phil Vischer's gifted teaching delivers a clear message to kids and adults about God's love and purpose for our lives.  Galaxy Buck communicates important Biblical truths that will add to everyone's faith foundation, whether a life-long Christian or a new creation in Christ.
Plus it combines two things my kids love, Whats In the Bible? and Star Trek.
If you've watched Veggie Tales and never seen What's In the Bible? you need to find a copy of the first one and watch it. You'll love it. Actually, you're probably better off just buying the set because otherwise you'll have an extra #1 like we do, because we bought #1 first and then purchased the set because we liked it so much.
Anyways, my 2 yr old actually calls the What's in the Bible? series "Buck Denver". The kids were so excited to watch a new movie with him.
The video was fun to watch for us and the kids, and it did a great job of communicating it's message of trusting in God.
If you loved Veggie Tales and/or Whats In the Bible? you'll love Galaxy Buck.
To find out more or pre-order your very own copy, visit the official Galaxy Buck website. Don't want to wait for a DVD? You can watch it online at JellyTelly.
There's lots of ways to follow Galaxy Buck.
And, just for fun, I get to give away a DVD copy of Galaxy Buck: Mission to Sector 9, so, enter below and good luck!
I received this product free for purposes of my review. All opinions are my own.