I tried this pie out over the weekend.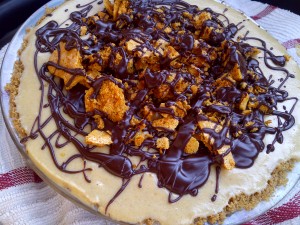 You cook the filling on the stove and let it set in the fridge for a couple of hours. As you can see, mine was still a little bit soft when I took this picture.
But, I loved the pie! It was really rich so you could only eat a small piece, but it was very tasty!
And the honeycomb on top was so easy to make. You mix 1/4 C water, 1T honey, 3T corn syrup, and 1 1/2C sugar in a saucepan until it starts to boil, then you turn the heat up and let it boil, swirling the pot occasionally until the sugar just starts to brown (and don't wait for it to get a dark brown, I had to make two batches because my first one was too brown and it tasted burnt). At the first tint of brown, remove it from the heat and whisk in 1T baking soda (it will bubble really high so use a large saucepan) immediately pour the whole thing out on a cookie sheet lined with wax paper and let it sit for 20 minutes. Then you can break or cut it in pieces and eat. It doesn't store really well, it tends to get a bit chewy after a couple of days.