* This is a sponsored post *
With 4 kids, the probability is really high that more than one of them is in a classroom, group, or event with another child who has a peanut allergy. Because we love peanut butter, and my kids really don't want to give up their favorite peanut butter foods, I've tried a LOT of other nut butters and seed butters. Most of these butters have been quickly rejected by my kids. They just don't taste like what they're used to. And while I personally love cashew butter, it's still a nut. And I can have it some places and not others.
So…I was excited and not excited to try a new brand of seed butters. One thing that made me optimistic about Beyond the Equator was that they're a 5 seed butter. Because, let me tell you, I cannot stand the taste of sunflower seed butter! And I've tried at least 10 of them. So, I promise you, it's not the fault of the person making the butter, it's the sunflower.
Beyond the Equator sent me their 3 5 Seed Butter Butters. (Say that 5 times fast!). These butters have Chai, Flax, Pumpkin, Sunflower, and Hemp seeds. No nuts. And they come in 3 varieties, Crunchy, Creamy, and Unsweetened.
If you're eating the butters straight out of the jar, they all have the texture of a natural peanut butter. The unsweetened, I can definitely taste the sunflower seeds in, so I don't really like it plain. But on a sandwich or in a recipe, it's perfect.
The Creamy really is the closest to my kid's favorite peanut butter that I've found in a nut butter. And best of all, my kids don't mind eating it!
The crunchy isn't quite as sweet as the creamy but still sweeter than the unsweetened. This jar is mine, because my kids don't like crunchy. Which is fine by me. It tastes great and makes a terrific PB&J – all for me.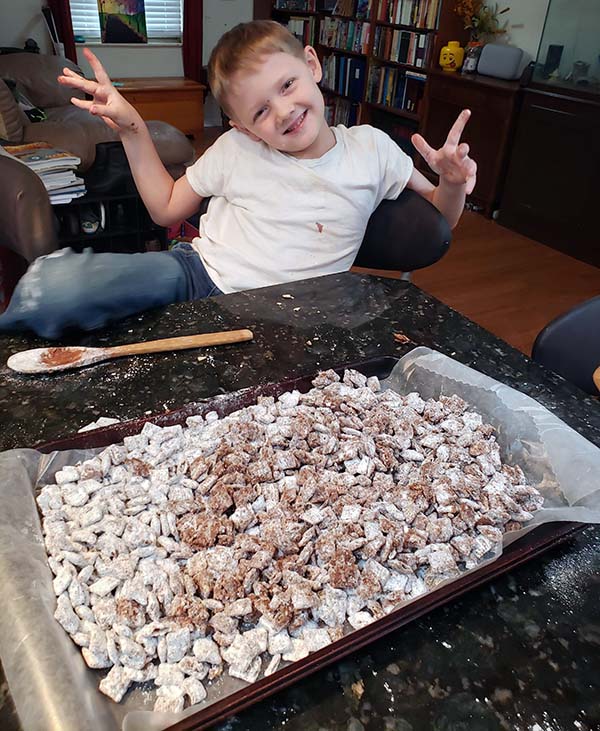 Muddy Buddies
One snack my kids are constantly sad they can't take to events is Muddy Buddies. Because, if you have anyone allergic to nuts, these are basically terrible. So, we took the unsweetened Beyond the Equator 5 Seed Butter and gave it a try.
My kids devoured these just like they do our usual recipe, and we even shared them with guests and no one knew they were made with "special butter" until we told them! My kids are definitely planning to make these again AND take them to share with friends!
Ingredients
8 Cups chex cereal – I prefer the rice chex because they have very little flavor
1 cup chocolate chips – I like milk chocolate
1/2 cup Beyond the Equator 5 Seed Butter – I like the unsweetened
1/4 cup Butter – melted
2 Cups powdered sugar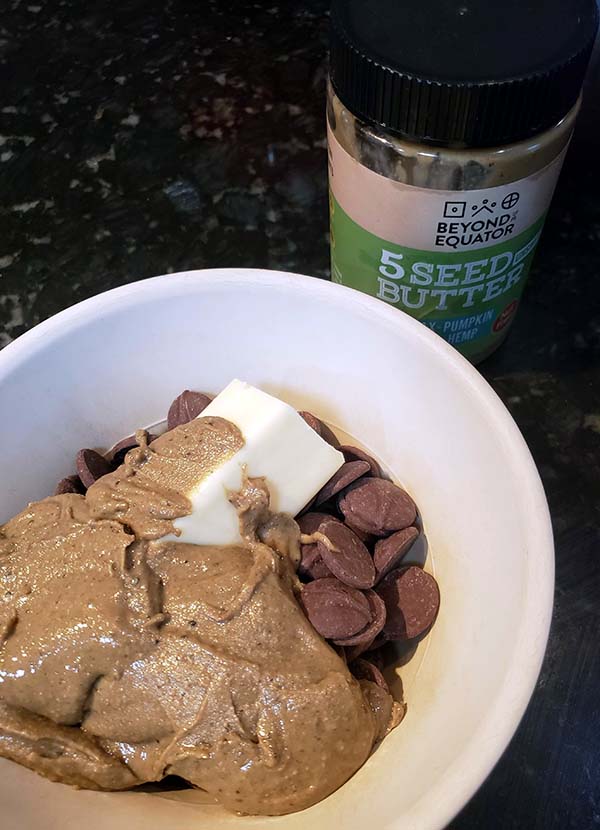 Directions
Put chocolate, butter, and 5 seed butter in a bowl. Microwave at 15 second increments, stirring between, until everything is melted and mixed together.
Pour 8 cups chex in a bowl. Pour chocolate mixture over chex and stir until all chex are covered in chocolate
Pour 2 cups of powdered sugar over chocolate covered chex and stir until everything is white.
Dump mixture onto a cookie sheet to cool
Try not to eat it all yourself!

Nut Butter Protein Balls
Ingredients
1 1/2 cups oats
3/4 cup Beyond the Equator 5 Seed Butter – if this isn't enough add a few tablespoons at a time until the mixture is the right consistency
3 Tbst honey or molasses
1/4 cup m&ms
Directions
Pulse oats in a food processor until coarsely ground
Mix oats, seed butter, and honey until well mixed and you can form balls with them. If they aren't sticky enough, add a little more seed butter. Especially if you're using the crunchy seed butter, you'll probably need a little more.
Mix in m&ms or other desired mixin
Form into balls and set out to dry.