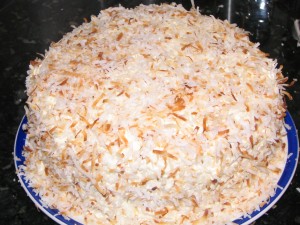 My coconut creme cake I made for Easter. It looks really pretty. I loved the cake and filling but I'm definitely making changes to the icing next time. The icing had THREE sticks of butter in it and only three Tablespoons of powdered sugar, and it definitely tasted buttery. I think next time I'll do half the butter, make up the liquid difference with some whipping cream and add some more powdered sugar.
As far as looks go though, I was really happy with this cake.
I did Easter dinner for my in-town family this year and I made some of my favorite dishes, and some new dishes. Ham, sweet potato casserole, corn pudding, salad, rolls, and cake.
Next year I think I need a few more rolls and another side, just for more variety, but I was happy with this year's success. Later I'll post my sweet potato casserole, and corn pudding recipes, as these are my favorites and I'm definitely making them again next year!