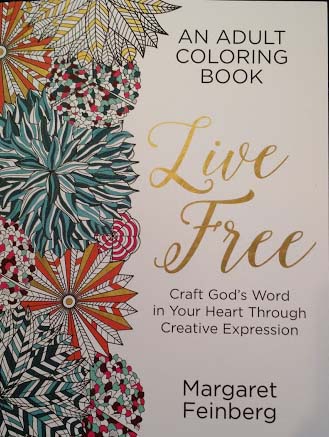 Live Free, An Adult Coloring Book by Margaret Feinberg.
This is such an awesome coloring book! On the left of each page is a spot for journaling or creating your own thoughts, and on the right is a fun picture with a verse to color.
I love all the intricacies of these pictures and it's so relaxing to just sit for a few minutes (with 3 kids, that's a max of 5 minutes at a time) and do something creative that doesn't have a deadline and that doesn't have to be done "right".
I've been just leaving this out on my living room table, grabbing the nearest marker, and coloring away when I get a chance. Luckily, the pages are heavy enough none of the marker is bleeding through.
In 2 weeks this is all I've gotten done, but I think it's turning out great, and I'm having so much fun picking which random colors go where.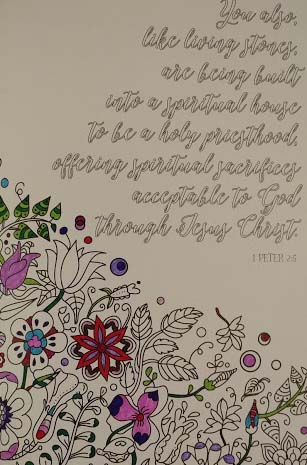 As I work on my picture I find myself pondering what it is to be a "living stone". Someone who brings life to my family and those around me. At the same time as I'm "bringing life" to my picture. Margaret Feinberg did a terrific job of matching this picture to this verse.
And my 7yr old picked out a page as well. This kept her busy for quite a while.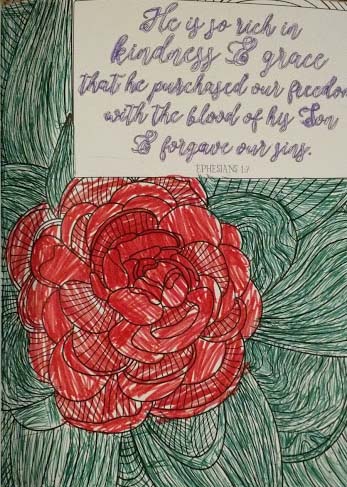 This book is full of beautiful pictures and inspiring scriptures. It's going to take me forever to color all of these pages, and I'm loving every minute of it!
I received this book free for purposes of my review. All opinions are my own. This post does contain affiliate links.