Ah, handwriting. Some kids love it, and some kids just don't. Actually, some adults are great at it, and some just aren't. Of all the subjects, I find this one to be one of the most difficult to teach, for a variety of reasons.
Creativity does not translate into neatness
My kids love to draw, paint, scribble, cut, fold, tear, etc. Creativity has never run low in my family. There's always markers, glitter, crayons, paper, glue, and just about any other mostly child-safe art supply available to my kids. And the only reason we might not have something is because they used it all up. We actually ran out of markers last month!
But, lots and lots of creativity means nothing when it comes to handwriting. I naively assumed that because my children like to draw and color and can stay in the lines (when they want to) that teaching handwriting would be a breeze.
I think the opposite is true. They find the structure of handwriting confining and feel the need to embellish and decorate everything on their page. Even on their math pages. 9's turn into people, and 1's must be decorated to the nth degree.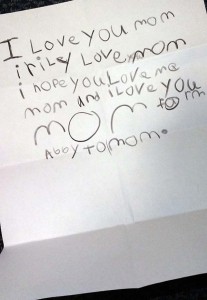 Uneven

I just assumed that by 2nd grade keeping letter all the same size would come naturally. Apparently, that's a learned skill. I remember struggling with this when I was a kid, well into 4th grade. For some kids, it doesn't matter how many lines you give them, it's just so hard to keep those letters even.
Grip
I have worked and worked with my kids on how to hold a pencil but it seems to do nothing for their handwriting. I mentioned this to my art teacher when my oldest was in 1st grade and she wasn't at all surprised that I was still having trouble teaching this. She said that in her experience, kids are usually between 7 and 10 before they're actually physically coordinated enough to hold a pencil correctly and write with perfect, even penmanship.
I'm so glad my teacher told me this. I was getting frustrated with my 1st grader and she was getting frustrated with me. So, I backed off. I still make her practice handwriting, but I make it easier and less time-consuming. We started cursive in 2nd grade and I used a K4 Cursive writing book for her. Long pages of writing means that I get really poor penmanship. Short pages means that she actually tries. And I'd much rather see 5 correctly formed words than 30 illegible words. She has a long way to go on her cursive, but we got a great start this year, and she's still wanting to improve.
What's actually interesting to me is the less I push my oldest, the better her penmanship gets. She's entering that age where she wants to write her own notes and stories, and her penmanship just improves as she goes.
I haven't given up on penmanship, I'm just allowing my children to learn at their own pace. Next year I have a Kindergartner and a 3rd grader and I've already looked at curriculum and picked out their handwriting. They're both going to learn manuscript and cursive together. The younger child needs to learn, and the older child needs to improve. And hopefully, with some sibling competition, they will both improve faster than if either was working alone.
Plus, let's be honest here. While I have great handwriting (manuscript, cursive, and calligraphy), I despise writing out pages of random words or sayings. So, why would I expect my children to like this?
Really, it's just good to know that if I want my kids to have great handwriting, I need to plan to be teaching this all the way through middle school. Because perfection takes practice. Lots of practice.