This post is sponsored by Giving Assistant.
Giving Assistant's goal is to solve one of online shopping's most frustrating problems. Promo codes rarely work! You know, you find a code, enter code, and it's denied. Repeat 5 times and then give up. The entire process is frustrating.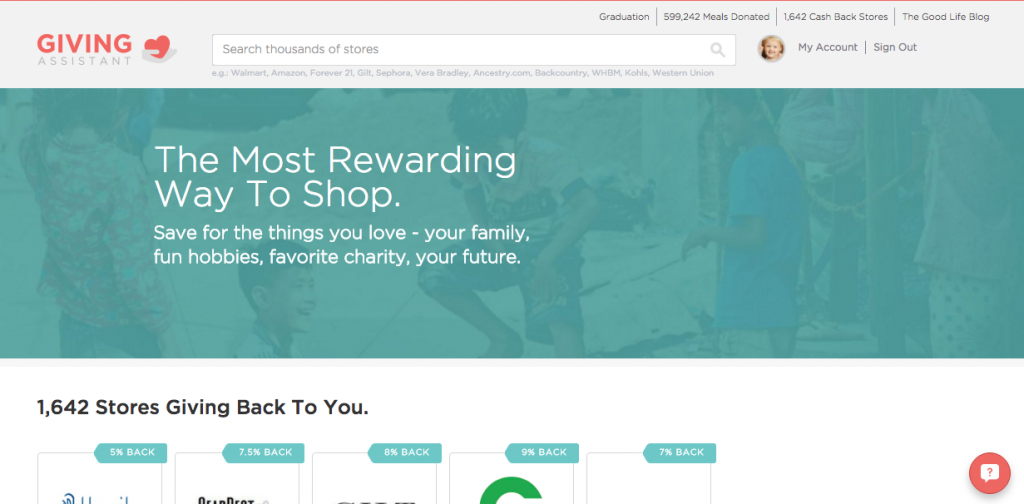 Giving Assistant is a free digital loyalty program, over 1,100 largest retailers, avg. of 5% cash reward after each online purchase. Giving Assistant's solution is to always provide a discount. They have 3 types of discounts.
Promo codes – Percentage off, coupons, and deals. For example, Walmart has lots of online deals listed like up to 80% off electronics.
Charity Donation – You can designate a percentage of your cash back to go to a charity of your choice. You can pick any percentage from 0% to 100%. Amazon, which is one of my favorite online retailers. You cannot earn cash back from them, but you can donate to your favorite charity every time you purchase. So, even if you can't get something back, you can help out your community when you shop. I've selected my favorite local charity as my designated Charity.
Cash Back – You can get cash back through Paypal or as a mailed check. For example, Bed, Bath, & Beyond offers up to 10% cash back on purchases. Your cash out minimum is $5 so it's pretty easy and fast to rack up cash back credits.
How Giving Assistant Works
Retailers pay them a commission for purchases originated from their website. Typically a percentage of the sale (avg ~5%).
For purchases originated by members they pay the entire commission as cash back directly and digitally to the members.
For non-member purchases they retain the commission, and make a small donation to Feeding America to give one meal.
Members are given the option to automatically donate any % of their cash back to any charity of their choice.
My Experience
I tried out Giving Assistant for the first time this week and it is so easy to use! I needed to order a wedding present for my sister from her Bed Bath & Beyond wedding registry, so I created my account on Giving Assistant (which took less than 5 minutes), searched for Bed Bath & Beyond, and went to their page.
For each retailer there's a list of instructions so you know what you need to do to earn your cash back and what you can earn cash back for.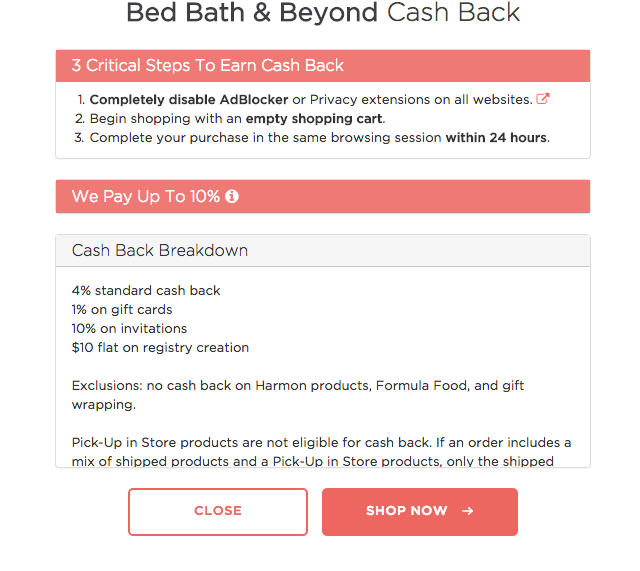 If you're looking for deals before you shop, just close this little pop-up and you'll see the full deal page.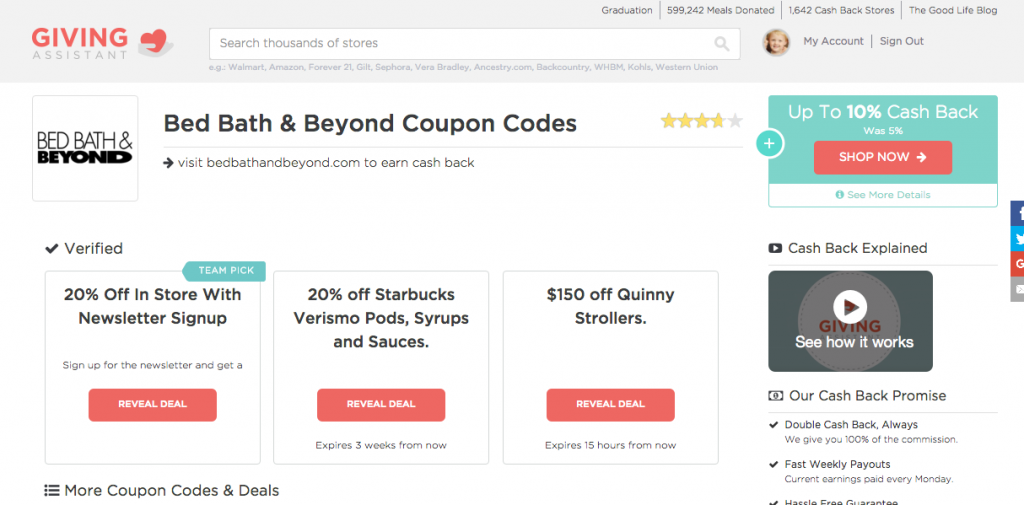 I didn't need any of these deals so I just clicked "shop now" and did my shopping. Once at Bed Bath & Beyond's website, I searched for my sister's wedding registry. I selected and purchased her gift.
A couple of hours later I received this e-mail.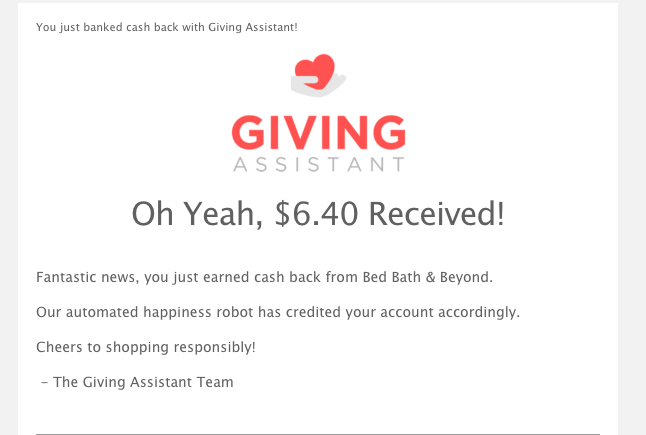 So, I bought a wedding present AND earned some cash back. Pretty awesome and easy! In my Giving Assistant account it lists this total under Pending Earnings and it says that the cash back will be released between 15 and 60 days depending on the retailer. It won't actually be in my PayPal for a couple of weeks still, but it will be a nice surprise when it arrives.
Earn $5 for Signing Up
One more great deal. Sign up through my referral link and you can earn $5 just for creating an account. And I get $5 too! Pretty awesome. Then go shop at your favorite online retailer and you'll be all set to get your Cash Back in the mail or via PayPal (just set this up under your account settings)

This is a sponsored post. This post contains affiliate links.