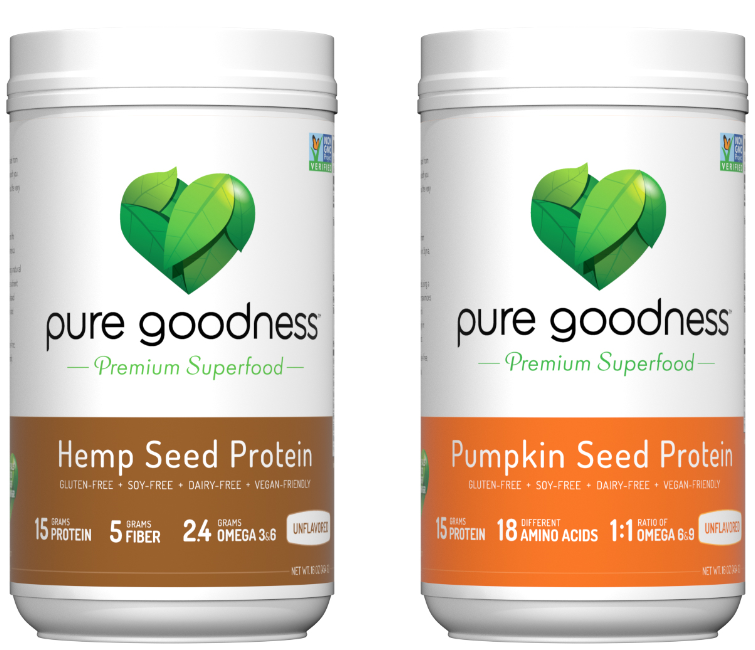 About the Product
New Pure Goodness Proteins are made from a powerful plant-based formula that contains 15 grams of plant based protein per serving and all amino acids essential for human dietary needs.
Pure Goodness products are Non-GMO verified, Gluten Free, Soy Free, Dairy Free, 100% Vegan and Paleo Friendly!
They have two different variations, Hemp Seed Protein and Pumpkin Seed Protein which are available in three different flavors, Unflavoured, Chocolate and Vanilla.
All seeds are gently cold pressed and minimally processed to ensure maximum nutrient preservation and digestibility.
Pure Goodness also believes in taking care of each other. This is why they give back, by donating 1% of sales to help provide nutritious food to communities in need across the US!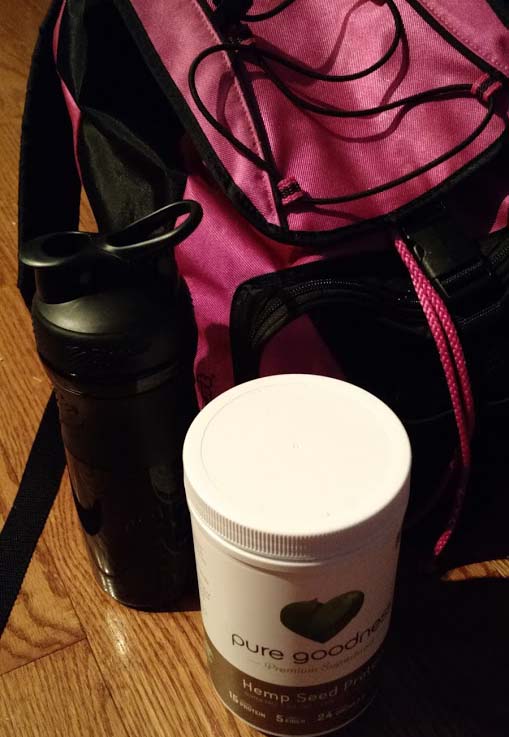 Aside from my pink backpack, which is awesome on the go. I also like to bring along my favorite shaker bottle with Pure Goodness Hemp Seed Protein. If I'm not going to be drinking it right away, I just carry it with the powder in it and then add water from a water fountain or water bottle when I'm ready to drink.
I received the Hemp Seed Protein, Chocolate Protein Powder to review. It has 4 ingredients! Hemp seed protein, fair trade cocoa powder, natural chocolate flavor, stevia leaf extract. For more nutritional info, check out the Pure Goodness website.
This Pure Goodness Hemp Seed Protein is awesome for taking with me to so many places! When I'm teaching, it's great to sip on during the day or drink all at once at snack time. When it's a busy day and I'm on the go, it's great for having along for a mid-morning energy boost, or a tide-over until lunch. Days when I'm home and getting caught up on the housework it great for a mid-afternoon snack. And it makes a great post-workout drink. So many times throughout my week that a little extra protein is so helpful – and by little, I mean 15 grams.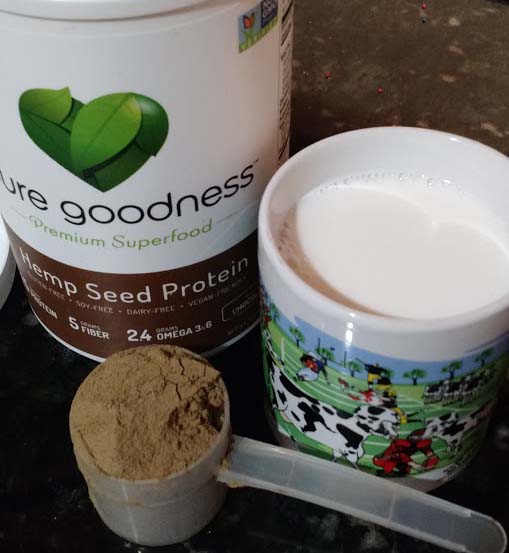 I prefer it mixed in milk. The flavor is great (even in just water) but I've never been really good with the gritty texture of a protein drink and milk is a bit thicker than water so it masks the grit just a bit. Just heat up a cup of milk, add the powder, mix, and you have a Protein Hot Chocolate! Perfect for an afternoon snack or pick-me-up at home.
If you prefer to mix your protein powder with water, you'll still like this product. It does mix in quite well. No chunks. It doesn't settle too badly, but I do still shake my drink up every so often just in case.
What I like best is the taste. Because there's so few ingredients, I don't have to taste a bunch of added vitamins and such, it's just whatever is naturally occurring in hemp seed, cocoa, chocolate flavor, and stevia. Really, with all that cocoa, it's the best protein powder I've ever had in milk. So chocolaty! I can definitely taste the sweetness of the stevia, but I don't eat a lot of foods with stevia in it so I tend to notice it when it's there. It's not a bad taste just a tad sweeter – in my opinion – than cane sugar.
This is a great protein powder, it tastes great, and mixes well.
Check out Pure Goodness on Social Media!
I received this product free for purposes of my review. All opinions are my own.