I prefer to mix my veggies in with my eggs while cooking the eggs, but to accommodate picky eaters I just added the veggies on top of my eggs after cooking everything.
These are fast and easy meal option.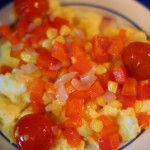 Spanish Eggs
1 Bell Pepper – I used red
1 Small red onion
1 cup of corn kernels (it's about 2 or 3 cobs worth of corn or 1 can, drained)
1 handfull cherry tomatoes (I only used 4 because I'm the only one who will eat the tomatoes)
2 Tbsp butter
Salt and pepper to taste
Dice your pepper and onion. Heat a skillet on the stove and melt your butter. Add all the vegetables to the pan and cook, stirring often, until softened and onions are translucent. About 15 minutes. Add salt and pepper to taste.
While your veggies are cooking scramble your eggs.
Top scrambled eggs with veggies and add cheese or salsa on top if wanted.