As we're winding down summer and starting our school year, I'm sharing one last post about summer before starting my school year series. Because I'm not quite ready for summer to end.
Snuggle has an online marketing page where you can qualify for free products and enter giveaways. Check them out here!
I received the Snuggle Bear Summer Mission, and for that mission we received a little snuggle bear in the mail. My 6yr old claimed the bear as her own, and it now resides in her bed.
I did manage to get a few pictures of Snuggle Bear hanging out with us this summer.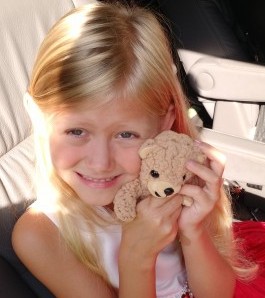 See, she loves her snuggle bear so much, she's bringing it on a car trip with us!
It's actually very, very soft, and well, snuggly. And the perfect size for bringing along on trips or just playing with.
I think this was a fun marketing program by Snuggle. It let me get the kids involved and we had lots of fun taking Snuggle Bear with us.
Plus now we have another stuffed animal, isn't that exciting! *insert sarcasm here* because I just needed one more stuffed animal in my house… At least it's a tiny one, and well loved!
#TeamSnuggle #SnuggleSelfie #Sponsored