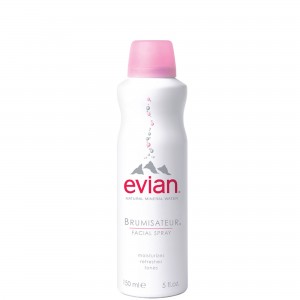 The exquisitely fine mist produced by evian® Brumisateur® penetrates and rehydrates the upper layers of the skin. evian® water has a unique mineral balance along with exceptional purity which suits all skin types, even the most sensitive. Leaves skin looking healthy and feeling refreshed. Dermatologically tested. The leak-proof canister is the ideal product to take on-the-go in any purse or travel bag. Unlike other water sprays, Evian Spray is sealed at the source, so it can not be contaminated.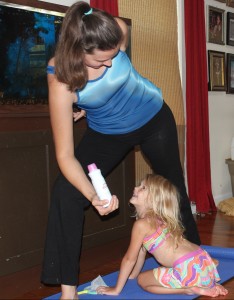 At first I was somewhat skeptical about spraying water on my face during a workout but after trying it, I'm quite impressed. The sprayer provides a gentle spray of mineral water mist that is instantly refreshing and cooling.
And, as you can see, my yoga usually involves the kids climbing under me during all the warrior and lunge poses. They also enjoy climbing ON me during poses such as down dog or when I'm doing push-ups. Definitely adds to the challenge!
I enjoyed the rejuvenating spray of the mineral water even while the kids were "aiding" my exercise.
I also dropped this in my gym bag and took it to the gym with me, but pictures at my gym aren't really encouraged so no pictures from there. It was awesome to have along there. When I got back to my locker after my yoga class I sprayed some on before picking up the kids to go swimming, so nice!
The instructions say you can dab any excess off after a few seconds but it soaks in pretty quickly so I haven't had to do this. I guess my skin needs lots of hydration while I'm working out!
I also tried it while doing yard work. I set it next to my water bottle and whenever I went and got a drink of water I would use some evian Facial Spray at the same time. Worked great and made my yard-work breaks doubly refreshing.
For more information check out their website Evianspray.com or visit their facebook page.
I received this product free for purposes of my review. All opinions are my own.