I've tried Oz Naturals products in the past and liked them, so I was pretty excited to try this Oz Naturals Hyaluronic Acid Serum.
What they say: "CLINICAL STRENGTH anti aging, anti wrinkle serum is proven to plump skin and fill in those fine lines and wrinkles.
THIS HYALURONIC ACID SERUM is guaranteed to give you that dewy, moisture boost needed to achieve that youthful glow and is proven to reduce skin's fine lines and wrinkles.
Our CRUELTY FREE, Hyaluronic Acid Serum does not contain alcohol, parabens or sulfates and is safe for all skin types.
MADE IN THE USA in a state of the art FDA registered facility, OZ Naturals formulates effective anti aging products."
Now for my opinion. First of all, I had to figure out what a Hyaluronic Acid Serum is, and how to use it. Because, I don't know about you, but I have no idea what Hyaluronic is and Acid doesn't sound like a good thing to put on my face.
But it has this cute little dropper in it, which makes it lots of fun to use. It's just fun to drop stuff on your hand and put it on your face instead of having to dump the bottle into your hand or figure out how to get the stuff out of the bottle. I just love the bottle and the dropper!
So, I read the instructions – I followed the instructions as well 🙂
Step 1: Wash and dry your face as usual
Step 2: Apply Oz Naturals Hyaluronic Acid Serum and let dry (it dries really fast)
Step 3: Apply your usual facial moisturizer and makeup as usual.
Super easy.
So, what does the Oz Naturals Hyaluronic Acid Serum do you ask? Well, basically, it preps your face for your moisturizer. I've been using it for several days now and it allows your moisturizer to soak in better. I was worried it would make my skin more oily, but it does just the opposite. Since my moisturizer is soaking in more, that means less oil ON my face and more deep into my skin where I actually need it. Hooray!
This oil is just about odorless – I can smell a little bit of the witch hazel but it's not strong and doesn't smell bad so it's not a problem. It does remind me of when I used witch hazel as a facial cleanser when I was a teen. I need something a little more moisturizing these days! And it's made with natural ingredients.
It's gentle on my skin, soaks in fast, and when used as instructed, helps my face stay more moisturized throughout the day.
Want a bottle for yourself? You can buy it here.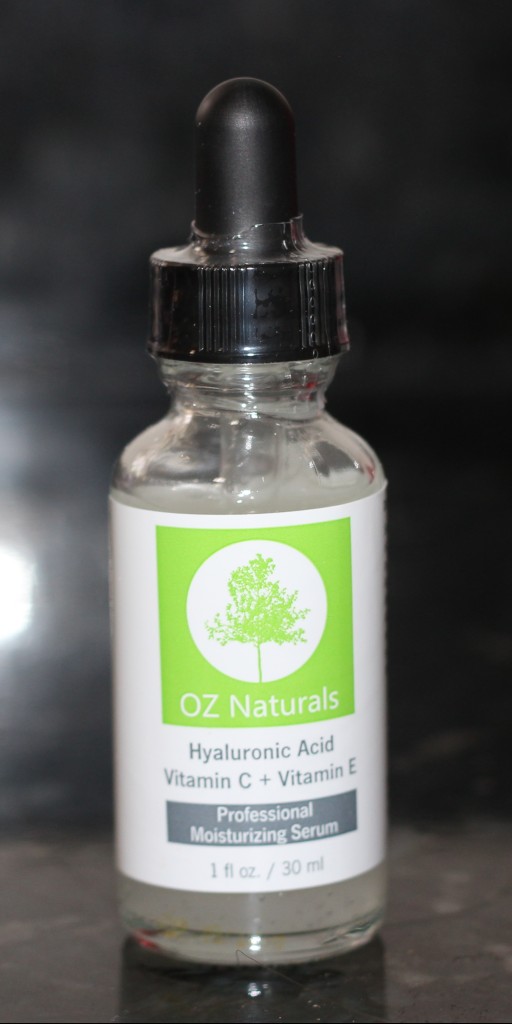 I received this product free for purposes of my review. All opinions are my own.