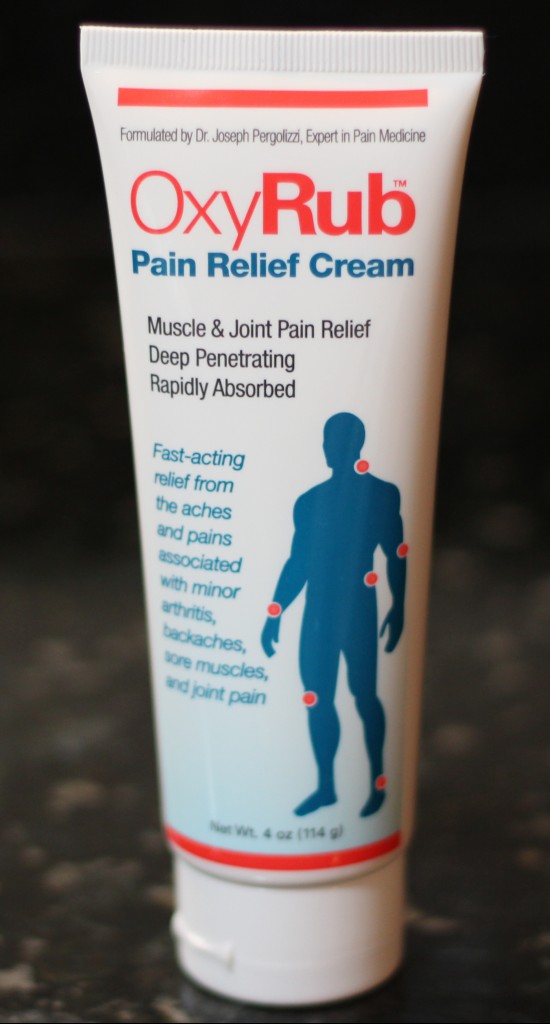 OxyRub Pain Relief cream is a rub on cream for the relief of arthritis, tense muscles, bursitis, and other strains or bruises.
I have some Carpal tunnel in my right wrist which flairs up from time to time. I received the OxyRub Pain Relief cream during a week that I was having a particularly bad time with it.
I try to relieve some of the symptoms by using my left hand more when I'm on the computer and such but I think most of the irritation comes from carrying my 35lb 2yr old around and some days not carrying him just isn't option so I need pain relief that targets just my hand and wrist.
The OxyRub is not a strong pain relief cream so it didn't relieve all the pain but it did reduce it a good amount so I was able to do most of my activities throughout my day without any pain – including toting around the toddler.
It performs pretty much as I expected for a Pain Relief Cream. It targets the pain right where it's rubbed in, lasts a good amount of time (I only needed to use it once a day for the 3 days that I was having the most trouble), and does a good job of providing a good amount of pain relieve without numbing the area.
Use Code SAVEOXY2 to save 20% off your first purchase of OxyRub 1 Tube (4 oz.) sold by Healthy Directions on Amazon.com. Promotion code expires 12/31/15. Make sure you select the tube that is sold by Healthy Directions or the promo code will not work.
Don't want to purchase from Amazon? You can also purchase OxyRub from HealthyDirections.com.
I received this product free for purposes of my review. All opinions are my own.