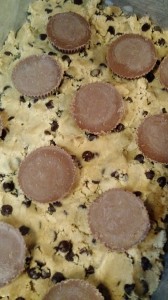 Peanut Butter Cup Cookie Dough Brownies, the title alone is enough to make me hungry! But, really, that's a long title. I just told my family they were cookie brownies. I put those two words together and it's guaranteed to get eaten!
This recipe was so easy! I bought cookie dough in a roll from the grocery store but next time I'll probably just mix up my own batch of chocolate chip cookies and put them in the bottom of the pan. I never have cookie dough on hand, but it's easy enough to whip up and the kids loved smooshing the dough down into the pan.
Cookie dough, peanut butter cups, and brownie mix, dessert really doesn't get much better than this. The only downside to this dessert? It's a bit rich and since it makes a 9X13 I should probably only make it when I'm having a party so I don't eat it all myself!