My latest party from House Party was for Arla Dofino cheese. Honestly, this has probably been my favorite house party so far! I got accepted as a host, sent out my invites, and reviewed the list of items I would be receiving. Insulated lunch totes and cheese. So, I'm expecting cheap lunch totes with the Arla Dofino logo, nope, they were nice Thermos insulated lunch totes in pink, blue, or black. Everyone who came to the party thought they were awesome. Sometimes at these house parties I have trouble giving away the favors (not everyone wanted wooden spoons at one party) but I had no problem getting guests to take these. Everyone needs a new lunch tote!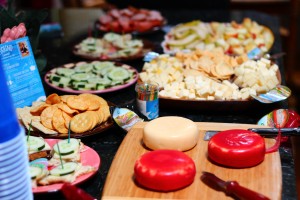 The cheese shipped directly from Arla Dofino, and I was really impressed with what was inside. Three different rounds – Gouda, Smoked Gouda, and Edam, two packages of sandwich slices – Gouda and Havarti, two triangles – fontina, and gouda, and five blocks of Havarti – Dill, Lite, Creamy, Smoked, and Jalapeño. There was lots and lots of cheese! I was expecting a couple of blocks so I was trying to plan what other things to serve with my cheese, but when my cheese arrived I realized that there was so much cheese, I could focus everything around the cheese.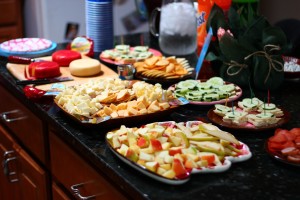 We had a cheese tray, I cut the cheese in little blocks for easy eating. I did dill and cucumber sandwiches with the havarti dill, these were awesome! I made little cheese crackers with bacon bits on top, warmed them in the oven till the cheese started melting, these were gobbled up first. And the rounds, I set out on the chopping block with some cheese knives. I had pears and apples chopped in squares, and pepperoni and sausage as well as four different kids of crackers.
I'd never tried Arla Dofino cheese before – normally I purchase the store brand from the fridge section – and it was very delicious. Even the jalapeño cheese wasn't overpoweringly spicy, it was just right. I'm always trying to figure out a good cheese try for holiday parties and after trying out all these cheeses, I now know what cheeses make the right variety cheese tray! Which means, I'll be buying more when the holidays get here!
This was such a fun laid-back house party, everyone ate cheese, and hung out and chatted for hours.