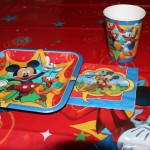 Thanks to Disney Side @Home Celebrations for my awesome box of party supplies for my #Disneyside party! With all these snow days we've just been off of our schedule for weeks, so I decided to keep it simple and do a playdate. Actually, I did a playdate and a pre-playdate the night before plus a few other random things throughout the week.
The first evening we had some friends over and the kids played the disney bingo and won prizes from our Disney prize bag – I used the stickers, balloons, bracelets, tatoos, and bumper stickers. A couple of the kids that were going to come ended up not being able to come as planned but we still had a great time! We had spaghetti for dinner and monster cupcakes in our Mickey Mouse cupcake wrappers.
The next morning we had our playdate. There were 6 kids total, we decorated T-shirts, played Disney bingo, colored our race posters, ate more cupcakes, and let the kids play.
I had traced mickey and minnie pictures onto the shirts before the party so all the kids (or moms) had to do was color them in. We all had a blast! I think the moms had more fun than the kids did coloring!
I don't have a color printer or a photo printer so I gave away all the photo card paper at the party, and it'll definitely get used. People were pretty excited to get to print their own pictures!
Only a few of the kids wanted posters so I had a few posters left over after the party that I sent to my sisters for Valentines day.
The next day me and the kids made our Mickey Mouse cookies and shared them with some friends we had over. The cookies turned out great and the kids had a great time decorating them!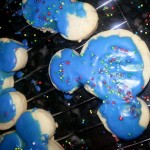 I finally figured out a good sugar cookie icing recipe (water, powdered sugar, and food coloring – when it dries you can stack the cookies without the icing sticking) so now I just need to nail down a good sugar cookie recipe. My recipe was ok but I've had better.
We've had so much fun showing our #DisneySide with our Disney @Home Celebration box!