Got to see a pre-release screening of Mom's Night Out with some friends Thursday night and I loved it! The first pre-release I've ever seen so I didn't know what to expect. I had three other friends who came as well so we had a nice group going. My husband was a little nervous about feeding the baby and getting him to bed on his own (the movie started at 7:00pm which is right when we start our bedtime routines) but things went pretty well for him. The baby ate 3 pieces of french toast and then didn't drink very much of his sippy cup, which concerned my husband a little – but I'm sure the little guy was just stuffed from his dinner and wasn't hungry for milk. Which definitely seemed to be the case because he didn't wake up any more than usual last night.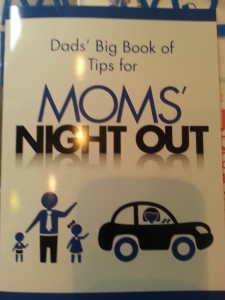 Back to the movie…so we get to the theater and walk in and there's a table set up on the way in to our showing, everyone gets a swag bag. Awesome! I was going to be really disappointed if they didn't give us something. There was a magnetic notepad, pen, car sticker, resource DVD, two movie posters, nail file, some little cards, keychain, and my favorite "Dad's Big Book of Tips for Moms' Night Out", hilarious tips for Dad's watching the kids.
So I'm already excited. Then, what I hadn't realized before, during the introduction, I discover that the movie is created by the same people that made Fireproof, which I haven't actually watched but it gives me hope that the comedy will be a clean comedy. You know, I invited friends to this, all of our husbands are home with the kids, I'm really hoping for a good movie!
Mom's Night Out is hilarious and heartwarming at the same time. They did a great job on the movie, me and my friends thoroughly enjoyed it!
The comedy was clean so you could take kids to the movie (though they probably won't find it as funny as parents do). There were only 3 men in the entire theater last night, which I expected because the marketing for this movie has been primarily to moms. But, I'm sure that men will love it just as much as women do.
It's a nice, happy, hilarious view of motherhood and parenting and left me, as a mom, re-engergized for the stage of motherhood that I'm in. (or maybe it was the giant piece of New York Style Cheesecake that I ate after the movie…)
I really think any mother would love this movie, regardless of how old her kids are. It comes out May 9th, just in time for Mother's Day. So if you don't have plans for your mom yet, try dinner and a movie, and you'll be glad you did!