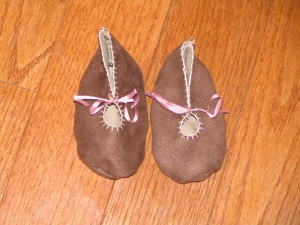 Two pairs of baby shoes from my new Sweet Booties! book.
This book has the cutest baby things in it! Booties, bibs, hats, bloomers, etc.
My sister made a really cute pair of red and yellow baby boots at the same time as I was working on these. As soon as I get a picture from her I'll post it.
These on the left I did a blanket stitch around the opening and then ran the ribbon through when the shoes were done.
The sizing was a tad smaller than I expected so unfortunately these shoes don't fit my baby so I'll either save them for a shower gift, for future children, or sell them on my Etsy shop when I start it up the end of this year. I'm sure my baby doesn't mind, she doesn't even like socks!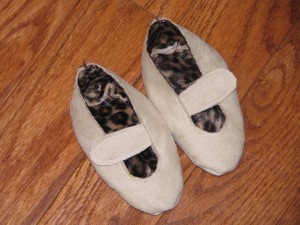 I love these Mary Jane's! I used some leather on the outside and some animal print fabric I had left over from a poodle skirt I did a while back. The pattern called for a button but I used velcro and I really like it. Trying to do buttons on a kicking baby just doesn't sound like fun.