*I received these cheese products free to review.
Just the Cheese is a Wisconsin company that makes and ships these delicious cheese snacks. Basically, they take cheese, bake it until it's crunchy, and then package it up, and send it to you. Pretty amazing!
They sent me a box packed with all their flavors! And it was so much fun trying out different cheese snacks.
Flavors – They have 5 flavors available. Wisconsin Cheddar, White Cheddar, Grilled Cheese, Garlic and Chive Cheese, and Jalapeno Cheese.
Real Cheese – The first thing I noticed about these is that they taste like real cheese. Usually with cheese snacks, they all have this artificial cheese taste. With Just the Cheese it's obvious that you're eating real cheese. Yum!
Favorite Flavor – White Cheddar is my favorite flavor. Probably because I like white cheddar in general. While all of the cheese snacks are flavorful, the Jalapeno Cheese was not as spicy as I expected. It's packed with flavor, but won't burn your mouth.
Filling – They're very filling. Because they're basically dehydrated cheese, I feel like I'm getting a lot of cheese in each bite. I enjoy these as a snack, but have to share some with my kids if we want to eat an entire snack bag at once. It's hard to find filling snacks!
Crunchy – These snacks are really crunchy. I definitely prefer the mini-packs over the bars. They taste the same, but the mini packs are these tiny round crunchy bits of cheese and super easy to eat! The Bars are big and crunchy and more difficult to eat without making a mess.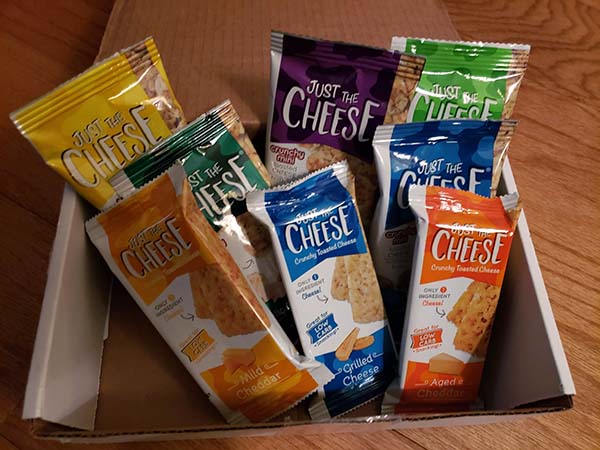 Just the Cheese products are available for purchase on their website and on Amazon.com.