Thanks to Tryazon for the amazing box of Save The Day Seasonings! I received this box free to host and post about a seasonings party, all opinions are my own.
Sunday is a good day for us to have friends over but with flag football and then wanting to watch football in the afternoon I had to come up with something that could be mostly prepped before and that could be eaten with fingers.
I had all these amazing spices to try, so we settled on chicken wings:
9 chicken wings (separated – so divide the wing looking piece and the drumstick looking piece)
1 Tbsp Olive Oil
5 Tbsp Save the Day Seasonings
1 gallon ziplock bag
The day before, put wings, oil, and 3 Tbsp seasonings in ziplock bag, zip shut and mix or shake until wings are coated. Place in fridge overnight.
Baking: Line a cookie sheet with aluminum foil, turn oven to 350. Place chicken in single layer on foil. Bake for 15 minutes. Flip wings and sprinkle with remaining 2 Tbsp seasoning. Bake 15 more minutes.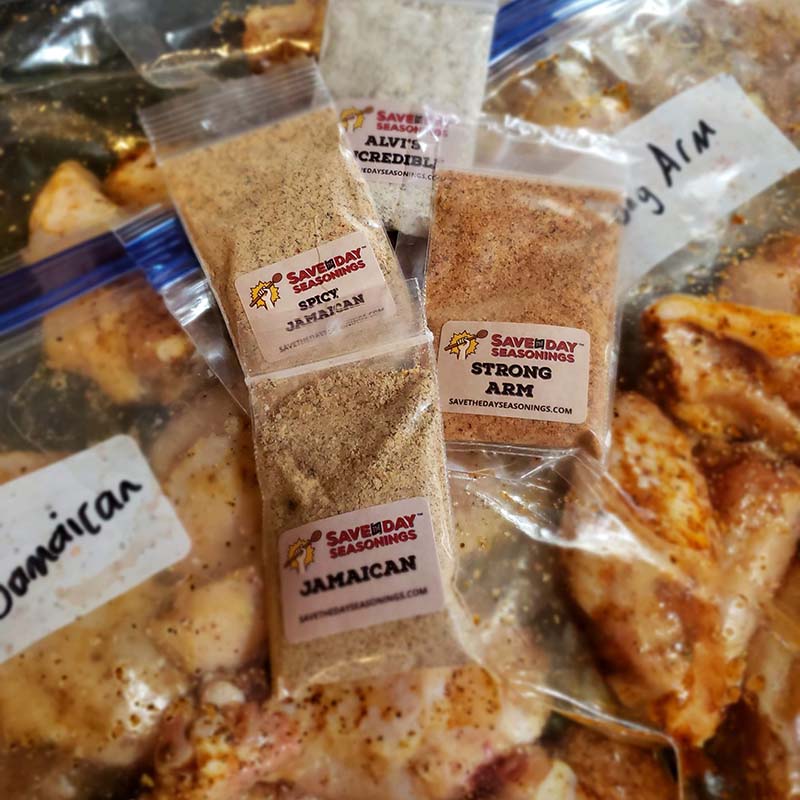 I made 4 batches and use Jamaican, Spicy Jamaican, Strong Arm, and Alvi's Incredible. My personal favorite was the Alvi's Incredible, but I polled all my guests and they all came out pretty even, it was pretty impossible to pick a favorite. They're all delicious!
Some of my guests were raving about how much they LOVE pre-mixed seasonings and how delicious and flavorful these seasonings are! I'm thinking that gift boxes as Christmas gifts would be perfect for some people this year! (yes, I'm already planning my Christmas shopping). Gift boxes are $30 and have 4 full size seasonings.
Check out the Save The Day Seasonings Store. And if you can't decide, just start with "Alvi's Incredible", because it's, Incredible!