This is a sponsored post – all opinions are my own.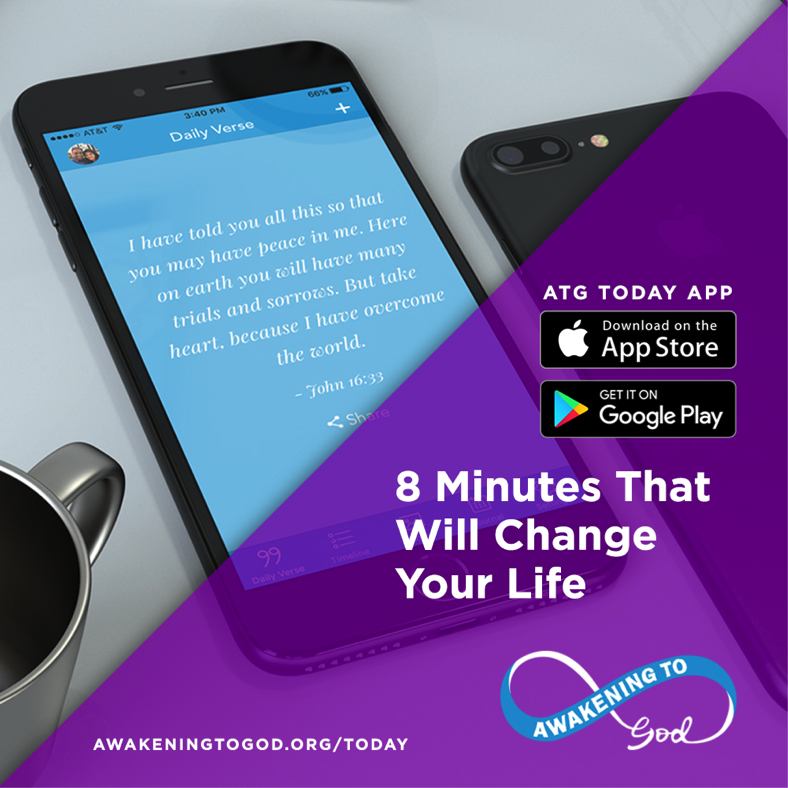 About Awakening to God Today (ATG Today):
ATG Today is a devotional journal to help you enjoy your walk with God, with thanksgiving from your heart, everyday touches and prayers. Inspiration for 8 minutes with God at the start of your day, learning to hear His voice, memorize scripture, pray and journal. Lots of great ideas to build your faith, share scripture, encourage others and strengthen family devotions.
Basically, there's a new verse each day, and there's a journaling portion of the app for recording your thoughts/feelings/etc. each day. I've been using this app for a month now and it's great to be able to easily look back and see what I've been learning this past month.
The creators of this app, Gerald & Jeannie Long experienced success and wealth based on the values of the world and also the deepest grief and suffering from the death of two of their three children.  On their journey, God has revealed His grace and glory to them in extraordinary ways.  In particular, they've experienced how God is able to redeem the most painful areas of our lives and turn them around for good.  Gerard has caught a deep awareness of eternity and Jeannie has experienced God's presence and glory when she was close to ending her own life.  Their marriage has triumphed when all seemed lost and they've learnt invaluable lessons on their unbelievable journey.  And, they have a very clear message of God's calling for each Christ follower to obey the Great Command and the Great Commission.
They created this app to inspire and encourage thousands of people in their walk with Christ.
Follow this link to find the app for  apple and android.