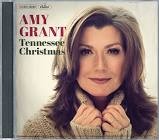 Amy Grant Tennessee Christmas CD – I got this CD the other day and have been playing it on repeat ever since. The kids gave up on stealing it from me and resorted to asking our Amazon Echo to play "Amy Grant" songs.
I did finally relent and tell them that they can have it to listen to when they go to bed this evening. Though, I know it's highly unlikely they'll return it to me before Christmas.
I'm just loving the songs on this CD! Since I live in Tennessee, the first song, Tennessee Christmas is especially sweet. And especially meaningful today as we watch the news reports of all the fires in Tennessee this week. People around here are really hoping for rain, and would be overjoyed to get snow. Because, really, it's hard to beat Christmas in Tennessee!
Even if you're not in Tennessee you'll still love this CD, it has some great Christmas classics like White Christmas and Joy To the World and some lesser known songs like Christmas for You and Me. There's isn't a song on this CD that I don't like. They're all beautiful.
Check out this YouTube of "To Be Together" from the Amy Grant Tennessee Christmas CD.
Also, Amy Grant is looking for fans to upload any videos of you surprising loved ones for the holidays. Post to your social media with hashtag #TNChristmasSurprise! They're making a compilation video and posting it to Amy's socials. So, post your favorite for a chance to be included.
The Giveaway winner will receive a physical CD copy of this album. It is also available for purchase and download on itunes.
"Disclosure (in accordance with the FTC's 16 CFR, Part 255:  "Guides Concerning the Use of Endorsements and Testimonials in Advertising"):  Many thanks to Propeller Consulting, LLC for providing this prize for the giveaway.  Choice of winners and opinions are 100% my own and NOT influenced by monetary compensation.  I did receive a sample of the product in exchange for this review and post.
Only one entrant per mailing address, per giveaway.  If you have won a prize from our sponsor Propeller /FlyBy Promotions in the last 30 days, you are not eligible to win.  Or if you have won the same prize on another blog, you are not eligible to win it again.  Winner is subject to eligibility verification. Giveaways for this promotion are only for residents of the continental U.S.