I received this product free for purposes of my review. All opinions are my own.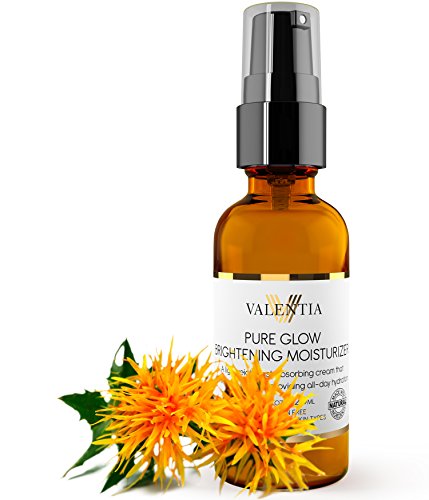 Valentia Pure Glow Brightening Moisturizer – A lightweight fast absorbing cream that illuminates skin while providing all-day hydration.
This Brightening Moisturizer Will:
– Lighten dark spots
– Restore skin radiance
– Even skin tone
– Diminish fine lines
– Provide all-day hydration
Specially selected ingredients work together to achieve optimum results.
KEY INGREDIENTS:
– Botanical Hyaluronic Acid: Floods skin with moisture, supports skin elasticity, and plumps skin from within.
– Kojic Acid: Controls melanin production and prevents dark spots.
– Ginseng: Boosts skin firming collagen, fights wrinkles, and gives the skin a brighter and more energized look.
– Safflower Oil: Repairs skin's natural moisture barrier and provide superior skin protection.
– Shea Butter: Infuses skin with a myriad of vitamins and nutrients for superior skin hydration and nourishment.
MY RESULTS:
I just love Valentia! I've liked every product of theirs that I've tried and this one is no exception. It is lightweight, absorbs quickly, and is easy to rub on to my face. The bottle is easy to use, and I don't have any trouble getting exactly the amount of moisturizer that I want to use.
I can apply makeup over this moisturizer without a problem and my face stays moisturized throughout the day.
It has practically no scent, which I just love in my facial moisturizer.
Valentia uses natural ingredients and the Valentia Pure Glow Brightning Moisturizer is working great on my skin. My face is moisturized, soft, clear, and bright. I'm loving this moisturizer.
For beauty tips and ideas you can check out Valentia on Instagram and Facebook.