I received 3 full size Aquation products free for purposes of my review. All opinions are my own.
About Aquation:
There are endless elements that affect your skin daily – not all of them in your control. There is a solution. Skincare that protects, restores and fortifies, with moisture you can feel. Clinically proven results you can see. Moisture balance technology you can count on. The perfect Aquation for hydrated + healthy skin.
Powered by Hydro Balance™ Aquation's advanced dual phase technology delivers hydration and creates an invisible barrier to help prevent moisture loss while encapsulated actives penetrate deeply for long-lasting hydration. 100% of women in clinical trials saw more hydrated skin, even up to 24 hours. 93% experienced instant hydration. 93% found non-irritating.
Aquation consists of a family of hydrating cleansers, creams, and moisturizers. You can learn more about Aquation here.
Summer can be so hard on my skin. I've been outside with the kids a LOT this summer, and my skin definitely needs some additional moisture. So, I am quite happy that I got to try out these products.
Aquation Gentle Moisturizing Cleanser:
I set this cleanser in my shower and used it instead of my usual body wash. I am very pleased with the results.
It doesn't lather very well. I tried it in my loofah and that didn't work very well. This body was was just a bit too lotiony to lather. So, if you're looking for lots of bubbles, this isn't the product for you.
I also tried it using a wash cloth (because I like to scrub with something) and that worked quite well. The pump bottle is easy to use in the shower.
The results are what I'm most pleased with. This body wash did a great job of cleansing without drying out my skin. It also moisturized without leaving my skin feeling greasy or oily.
It's lightly moisturizing, so you're still going to want to use the Aquation lotion after your shower if your skin really needs moisture, like mine does. But it is nice to get out of the shower with my skin already one step closer to being well moisturized.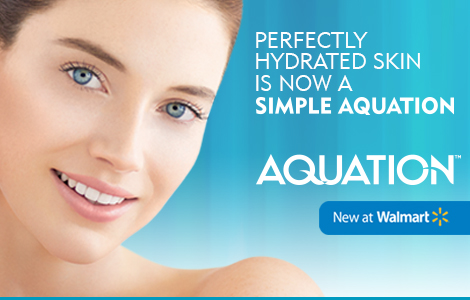 Aquation Daily Moisturizing Lotion:
I just love, love, love this lotion! It moisturizes so well without leaving my skin greasy. One of my biggest lotion challenges is that after putting lotion on my hands are clammy because of the lotion. I often end up having to wash my hands just to get the greasy feel off – which kinda defeats the purpose of using the lotion. Not so with this lotion. It absorbs quickly and without leaving my skin oily to the touch.
This is a great all over body lotion but honestly, I'm loving it for my hands because I can moisturize my hands without the being greasy afterwards. I need to get a bottle just for my desk so I have it on hand when I want it.
This is a lot like the Daily Moisturizing Lotion, just a little thicker and a little bit more moisturizing. I've been using this product after my shower and on any spots that need extra hydration. Like my shoulders after a fun day in the sun.
I'm not using it every day but just when I need a little extra moisture and it's working great. It's also non greasy but still does a great job of hydrating my skin.
This combined with the Daily Lotion and the Moisturizing Cleanser has been really good for my skin.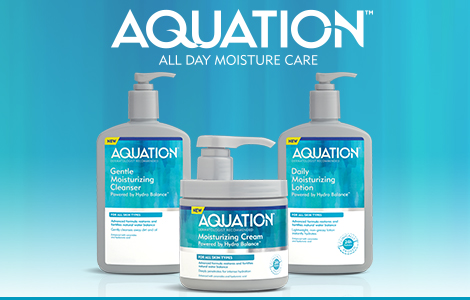 After more than a week of using these products my skin is more hydrated and refreshed than I usually manage in the summer.
All of these products are gentle and non-irritating to my skin. They also seem to be unscented so they would be safe for me to use on my kids as well.
Want to try these product for yourself? You can purchase them HERE. Or purchase in-store at WalMart and use this Coupon for additional savings. At $9 each these are a great deal!
Follow Aquation on social media:
Facebook
Twitter
Instagram
Pinterest
Youtube
I received these products free for purposes of my review. All opinions are my own.