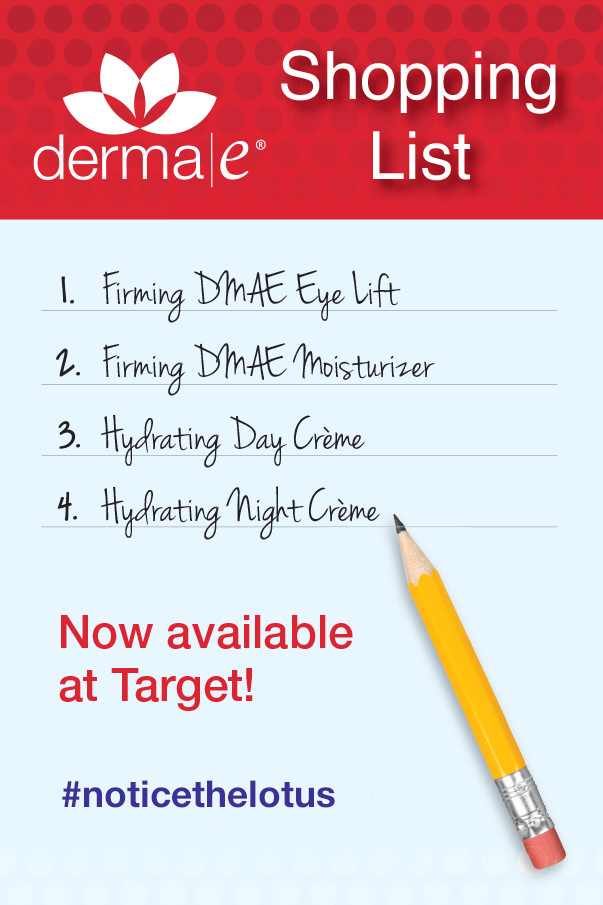 #NOTICETHELOTUS at Target in 2016… derma e has arrived!
For starters, I just love Target. They have a great variety of quality options in pretty much every category that I need. I did lots of shopping this past holiday season at Target, I found gifts for the kids, snacks for my husband, and even picked up a few things for myself.
I've recently discovered that they have a great variety of beauty products at great prices. And since I'm already at Target for things like Birthday presents for my kids, or laundry detergent that I ran out of yesterday (whoops!), I can just get everything I need in one trip. Which reminds me, hubby is out of deodorant, I need to make a trip to Target ASAP.
I was super excited to try out the new Firming DMAE Eye Lift from Target. As an added bonus, I also received Hydrating Night Creme, Hydrating Day Creme, and Firming DMAE Moisturizer so I could experience all the new derma e products at once.
Firming DMAE Eye Lift is designed to visibly lift, firm and tighten the delicate eye area while smoothing crow's feet with this doctor-developed, multi-action eye treatment crème that contains advanced, clinically proven natural ingredients. DMAE, a widely-acclaimed skin-firming nutrient, is clinically proven to boost collagen for firmer, more resilient skin. InstaLift® Goji Berry glycopeptides add further firming, lifting and tightening antioxidant power. Advanced peptides Argireline® and Matrixyl® synthe'6® work together to soften facial muscles and synthesize new key components such as collagen, helping smooth wrinkles and discourage new lines from forming. Hyaluronic Acid, also known as nature's moisture magnet, infuses a surge of cooling eye moisture helping leave skin soft, smooth, tone and rehydrated. With continued use, this pro-collagen and pro-elastin blend leaves the delicate eye area firmer, smoother and younger-looking. 100% vegan, cruelty-free, paraben-free, sulfate-free, mineral oil-free, lanolin-free, gluten-free, GMO-free.
With 3 kids my biggest beauty problem is dark circles under my eyes, so I was excited to try out the DMAE Eye Lift. I was using it over the holidays and with travel and keeping up with the kids everyone still told me that I look great. Maybe it was my facial routine or maybe everyone else was just as tired as me!
Either way, I think my under eye looks lighter and more clear after using the DMAE Eye Lift for a little over a week. I'm quite happy with the results! This product did not irritate my eyes at all, it feels gentle, and natural.
I can see why derma e® has built a passionate following in the natural products industry and beyond, because they're always aspiring to make highly effective, premium skincare formulas with cruelty-free green chemistry.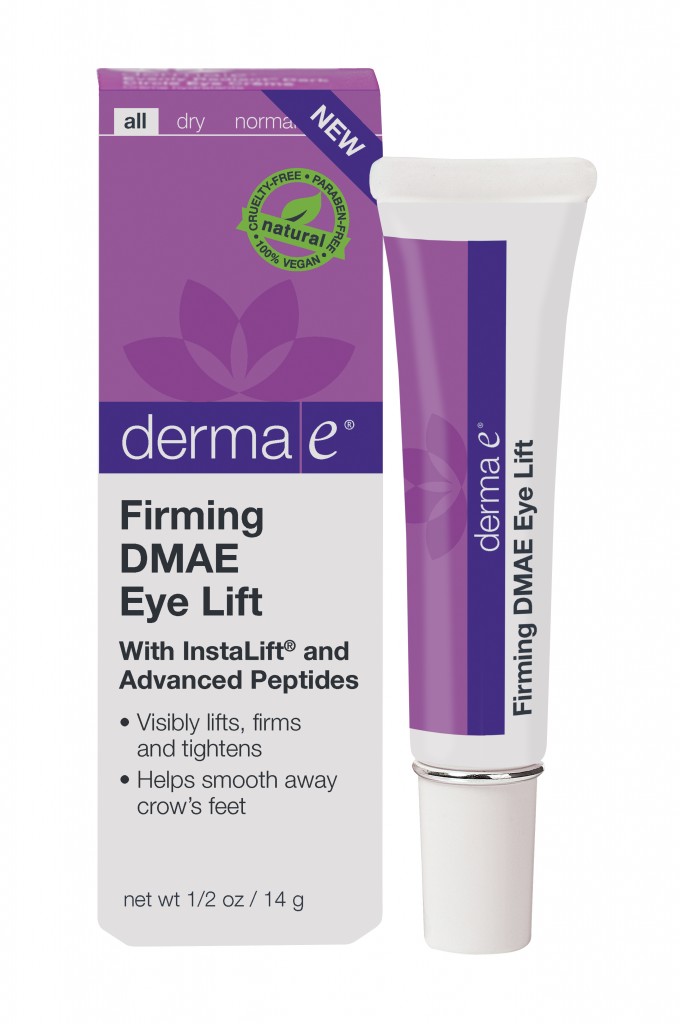 I apply a teeny tiny bit every morning under and around my eye so at $24.95 for this product, which will probably last at least 3 months, I'd say this is a pretty good deal. It's also currently discounted to $20 on the derma e website. If you're thinking about getting some for yourself, this is a great time to try it out!
I've been using it with their other derma e products, and I just love the results. The products are non-greasy, gentle on my skin, and all do a great job of helping me maintain healthy, vibrant skin with all natural products.
For more info on derma e products, check out their Youtube Chanel.
I received these products free for purposes of my review. All opinions are my own.