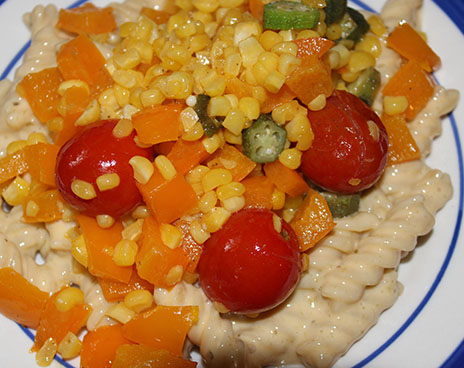 I have lots of random veggies that I don't usually cook with a lot in my fridge these days, so I'm trying out new recipes. I'm loving how sweet the orange and yellow peppers are.
Veggie Mac & Cheese
1 can of corn, drained or 3 corn cobs with the corn cut off
1 yellow pepper (or any pepper of your choice) – diced
1/3 cup sliced okra
Handfull of cherry tomatoes
2 Tbsp butter
salt & pepper to taste
Mac & cheese of your choice – I made a slightly spicy mac & cheese
Make your macaroni and cheese according to package directions or follow your favorite recipe.
Place butter and vegetables in a skillet over medium heat, cook stirring often until peppers are slightly softened. Season as wanted with salt and pepper.
You can mix the veggies in with the mac and cheese or put them on top like I did. Cheese and veggies are such a delicious combination!