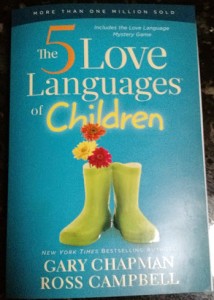 I just finished ready "The 5 Love Languages of Children" by Gary Chapman and Ross Campbell.
I'm already familiar with the 5 Love Languages for adults so I was excited to get to review this book. As a mother with 3 children I've already noticed a difference in how each of them relate to me and others around them.
First of all, I was a little disappointed to realize that children need to be 6 or so before you can figure out what their love language is, though, this does make sense, because really you don't start seeing much independence until kids are about 6. My oldest is 6 so for her, I can figure out what her love language is.
For little kids it can be as simple as role playing, as in "how would Suzie's mom show her that she loves her in this situation?" Or "what's something I did today that showed you that I love you?".
For the younger kids (and my 6yr old), I'll do what the book encouraged me to do, just show love in all 5 languages because it's so important for kids to know they're loved! Also, this will be a great book to read again in a couple of years just to see where we're at then and remind me of ways to show love to my children.
Even if you're kids aren't old enough, this book has great suggestions for showing love to your children in all 5 love languages in all the different stages of their life. In fact, the authors often break suggestions down into age groups – which I found extremely helpful! Because how you show love to a 6yr old is often different than how you can show the same kind of love to your teenager.
For example, we were watching a movie the other night that scared my 6yr old. She spent the entire movie snuggled on the couch with me. This is unlikely to be a teenagers response or need when watching a scary movie.
I would recommend this book to parents of kids of all ages. It's an easy book to read and it contains a lot of practical and helpful advice.
I received a copy of this book from the publisher for purposes of my review.