Thanks to Influenster for the awesome product to try and review!
First of all Neutrogena Hydro Boost Water Gel
is blue, and blue is my favorite color. I like to coordinate all my stuff in blue. My office supplies, bathroom supplies, etc. So I have blue sewing scissors, a blue tape measure, blue hairbrush, blue eyeshadow (actually, I just like this shade, but my blue is my favorite!), blue pens, etc. And now, I have blue face moisturizer!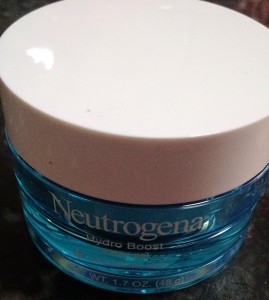 Enough of the blue. The only thing I don't love about this product is it has a slight perfume smell. It goes away after I rub it all in and it's really mild so it's not really a reason I wouldn't use this product. And it's not a bad smell, I just don't understand why it's there. And it's a bit different than the smell I'm used to from my olay face lotion so I wasn't expecting it the first time.
As for the product itself, I love it! It rubs in quickly, and it feels a little cool (temperature) going on which is always nice in the morning – I need all the help I can get to wake up!. I have never used a face gel so I was very curious to see how this product differed from my usual face lotion. After just a week of using it, I don't plan on going back to my lotion.
I have pretty clear, just slightly oily skin, so I don't need anything special, but I am constantly fighting having oily skin by my nose and dry skin on my cheeks. If I use more lotion my cheeks are great my my nose just gets more oily. If I use less my nose is great and the rest of my skin dries out.
All that to say, I'm constantly looking for a product that will solve this problem, I just never thought to use a face gel. I'm so happy with this Neutrogena Hydro Boost Water Gel
. It give my entire face all the moisture I need without causing any oily skin! Just the combination I needed. After a week of using it, my face looks more moisturized and more healthy than it ever has.
Neutrogena Hydro Boost Water Gel
is a great product, it works really well on my skin, and it's blue! I would recommend this product to anyone who's looking for a new facial moisturizer, especially if you have combination skin like I do.
I received this product free for purposes of my review, all opinions are my own. @Neutrogena, @Influenster, #BehindTheGlow, #Neutrogena, #contest