Tried out my Progresso Recipe Starters Cheese sauce for supper last night – Thanks BzzAgent for letting me try this!
I used the Bacon Mac and Cheese recipe off of the Recipe Starters can and I substituted two cans of tuna instead of the bacon bits (since I didn't have any bacon bits on hand). It turned out delicious, my kids, husband, and I all loved it!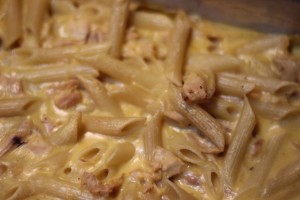 It's tough to find a mac and cheese recipe that we all like and this one was a success! I'll definitely be making this one again!
The hardest part for me in making mac and cheese is getting my cheese sauce thick enough without burning it and the Progresso Creamy Cheese Sauce made this so much easier!
Progresso has some other great looking mac and cheese recipes on their website, and this delicious looking queso which I think I'll try next time we have company over to watch football.
All in all, this recipe was a success and I'm loving the Progresso Recipe Starters sauces! Now, should I try the tomato, garlic, or basil sauce next? They all sound so good!