So, Cayenne pepper is my new favorite spice. I made an apple pie yesterday and I couldn't resist using it. Before you think, oh, no!, spicy apple pie. Don't worry, I didn't use that much! I've discovered that a tiny amount of cayenne pepper adds flavor to sweet foods without being spicy.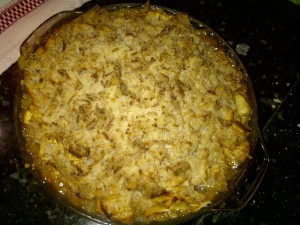 I was making a dutch apple pie and when I went to make the crumb topping I discovered that I was out of brown sugar. The pie was already sitting in the pan ready to go and I really didn't want to make a crust for the top. So, I improvised:
1 C Sugar
1/8 t cayenne pepper
1/2 C shredded coconut
4T unsalted butter
Blend well and sprinkle on top. It was quite yummy! The pepper adds flavor without adding spice, and without it I think using the white sugar would have been a bit too bland for the top of my apple pie.
I also tried a new crust, which actually turned out! I have trouble with my crusts being too tough. I think I overwork them. Use oil instead of butter, so you mix it all together with a fork and then press it into the pan instead of rolling it out. My crust was actually flaky for once!