I had my house party this weekend. If you haven't checked out house parties you should. I love them! You get free stuff, in my case a skillet and food, to demo a new product with your friends.
My party was for Philadelphia Cooking Creme.
I made two pasta dishes, Chicken Primavera with Pasta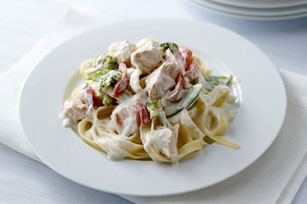 and Tortellini Italiano.
Both were really good! The Tortellini Italiano was my favorite. The red peppers added a sweet flavor to the cooking creme that wasn't in the Chicken Primavera.
Even my husband, who doesn't like red peppers, liked the Tortellini Italiano best. He, of course, picked the red peppers out but he liked the flavor of the sauce with the peppers having been cooked in it.
I really want to try out one of the mexican meals, they all look so good! I think that's the cooking creme flavor I'll try next.