I was given a pdf copy of My Pinewood Kitchen in exchange for my review. I love cooking and I've been doing a LOT of it with being home so much. So, needless to say, I'm getting bored with my recipes and dying for something new.
This cook book looked healthy, hearty, and delicious. And I've not been disappointed!
I've been attempting to make a carrot soup that I like – and my last one was a major bust (as in, sorry kids, you don't have to eat it) – so I decided to give this one a try. I definitely haven't tried one with an apple in it before, so I was quite curious as to how the added sweetness would taste.
Short On Inspiration While Dining In? My Pinewood Kitchen Dishes Out Some Quarantine Cuisine Tips
With COVID-19 keeping us at home more and shopping less, home chefs need to get creative while cooking tasty, healthy meals for their entire family. Chef and author Mee McCormick is an expert: she healed herself of Crohn's disease, gut issues, and other immune system challenges with whole food recipes when doctors couldn't help her.
The mom/rancher/restaurateur can share tips for "quarantine cuisine" when you're hankering for variety in your meals but you're short on ingredients and inspiration. Perfect for social distancing, many of her recipes are made with items you probably already have in your pantry (for example, her Black Bean Chicken Chili and Immune-Boosting Chicken & Quinoa Soup); she can teach home cooks how to repurpose items to reduce food waste (cilantro pickles, anyone?), and reveal the healthiest foods you need in your pandemic pantry.
My Pinewood Kitchen: A Southern Culinary Cure offers more than 100 gluten-free, whole foods recipes that can be customized for Keto, Paleo, or vegans, making it a truly "all-inclusive" eating plan for the entire family. From smoothies, soups and salads, to dinners and desserts, every recipe is gluten-free and gut-friendly.
•    Curb Your COVID Anxiety with healthy chocolate with Mee's Chocolate Avocado Mousse & Five-Ingredient Fudge Cups
•    Soups for Social Distancing – Black Bean Chicken Chili and Immune-Boosting Chicken & Quinoa Soup (nutritious, delicious, and they use what you likely have in your home already!)
•    Plenty of plant-based offerings
•    Reduce Waste: Learn how to make cilantro pickles from cucumbers, sweet potato chips from sweet potatoes, a falafel burger from canned chickpeas, and how to make your own healthier ketchup and mayonnaise if you run out
•    10 Gut-Friendly Foods for your Pandemic Pantry
Mee McCormick is a rising Southern culinary and wellness innovator, restaurateur, author, TV cooking personality, farmer, rancher, wife and mother. She splits her time between Nashville and nearby Nunnelly, Tennessee; a tiny, unincorporated community in Hickman County, which is also home to her biodynamic farm and restaurant Pinewood Kitchen & Mercantile.
Mee authored her first cookbook My Kitchen Cure, which led to wild success and a book deal with HCI for her second cookbook My Pinewood Kitchen, published on April 14, 2020. She frequently appears on Today in Nashville, and she participates in nationally-recognized food festivals and events, spreading the same level of care and hospitality to audiences everywhere that she has become known for throughout the state of Tennessee. Visit: www.meemccormick.com or www.pinewoodkitchenandmercantile.com.
My Pinewood Kitchen: A Southern Culinary Cure/130+ Crazy Delicious, Gluten-Free Recipes to Reduce Inflammation and Make Your Gut Happy
By Mee McCormick
HCI BOOKS
Released: April 2020/ $26.95
ISBN: 9780757323522
Available wherever books are sold
There are some absolutely amazing recipes in this book! Think terrific and tasty family meals, and the Carrot Ginger Soup did not disappoint!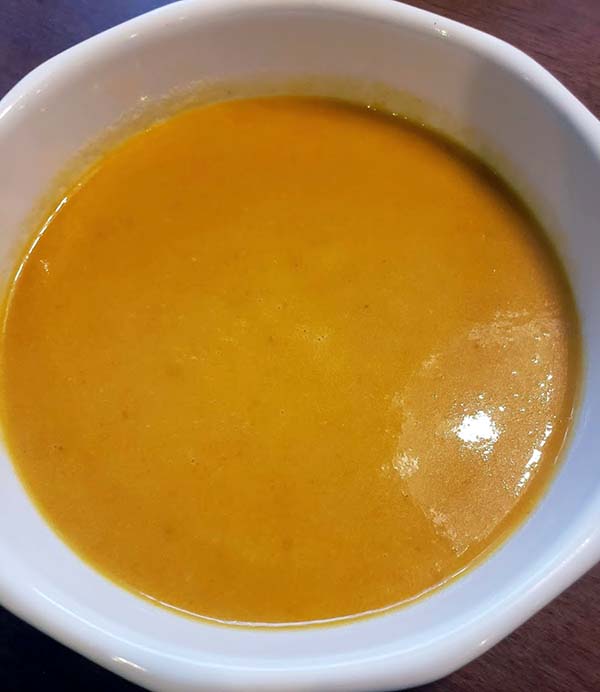 Carrot Ginger Soup
Ingredients: 
3 tablespoons extra-virgin olive oil or ghee
1 large white onion, diced
3 cloves garlic, minced
2 tablespoons grated fresh ginger
1. pounds carrots
1 apple, chopped and skin on
4 cups Chicken Bone Broth (page 120) or Vegetable Broth (page 121) – directions in the cookbook
2 cups water
1/4 cup raw cashews
3/4 cup full-fat coconut milk
1 tablespoon miso
Sea salt (to taste)
Freshly ground black pepper (to taste)
Directions:
1) In a large saucepan over medium heat, heat the oil or ghee. Add the onion and sweat until soft. Add the garlic and ginger, and cook for about 3 minutes.
2) Add the carrots, apple, broth, water, and cashews. Bring to a boil and then simmer, covered, for 20 minutes. Allow to cool.
3) Transfer to a blender or food processor. Add the coconut milk and miso paste. Blend until smooth. Season with salt and pepper, to taste. Serve warm.
Incredibly easy and delicious! I paired this with some leftover ribs and steamed broccoli for an absolutely amazing dinner with the family!